Tyra Banks teaches Jimmy Fallon how to Booty-Tooch
August 22nd, 2012 under America's Next Top Model, Jimmy Fallon. [ Comments: none ]

Remember a few years ago when Tyra Banks came up with Smizing (smiling with your eyes) for America's Next Top Model? Well now her new thing is Booty-Tooch and she demonstrated the correct way to do it on Late Night. She made Jimmy Fallon pose with his butt sticking out and then she told him to move his hips around and around. When he did that he reminded me of Dana Carvey doing the Church Lady dance. Don't you agree with me?
---
ANTM: America's Next Top Massacre
April 20th, 2012 under America's Next Top Model. [ Comments: none ]

Tyra Banks went on a firing spree and Nigel Barker, Mrs J (Jay Alexander) and Jay Manuel were all let go from America's Next Top Model. Banks confirmed the news by Tweeting, "Fierce & love 2 my @NigelBarker, @MrJayManuel & Miss J. #ANTM turned us in2 a family. Excited for what the future holds for us. XOXO TyTy"
Jay Manuel posted a blog called "It's a wrap everybody" and was thankful for the last 18 cycles and he's also excited for his future. Nigel Barker also blogged about his departure and said he is ready to move on to his next projects.
Yes I think that ANTM needed a change because I gave up the show this season, but I think they kept the wrong person. If anyone needs to go it is Tyra Banks. I hate her stupid competitions and how she makes it all about herself. It is time for her to move on.
---
What is Tyra Banks doing to Justin Bieber?
August 8th, 2011 under America's Next Top Model, Justin Bieber. [ Comments: 3 ]

WireImage
Tyra Banks is 37 and she is all over 17 year old Justin Bieber in a way that totally creeps me out. Not only is she two decades older than him, she is also older than his mother. Maybe once she realizes that, she will stop wearing skin tight leather one-pieces. Not that she can't wear it, I just don't think she just should.
---
Remember Toccara Jones?
June 27th, 2011 under America's Next Top Model, Remember?. [ Comments: none ]

WireImage
America's Next Top Model's first plus-size model Toccara Jones was walking Vibe's Pre BET Awards Party and the 30 year old looks great. I know she said on Celebrity Fit Club that she didn't want to lose her curves, but she definitely looks like she reshaped them. I hope she is back on ANTM all-star edition because she was always fun to watch on the show.
---
America's Next Top Model is Shedding for the Wedding
February 23rd, 2011 under America's Next Top Model, The CW. [ Comments: none ]

Tonight at 8p on The CW, America's Next Top Model is back and they are changing it up. The audition episode is gone, but I am not going to tell you how we find out who the lucky contestants are… I will tell you that there are two challenged girls this season, one is plus-sized and the other is petite. You know in Tyra's terms they are like dreckatude. There is one girl I am rooting for to make it to the finals and that is Jaclyn, once you hear talk you will know why I am saying this.
This season is shaping up to be different that the 15 before it. That and this group of girls look different than the ones in the cycles beforehand…granted that is before Tyra's awful makeovers.
Talking about makeovers, at 9p Shedding for the Wedding debuts and this show pits oversized engaged couples against other and they are competing to lose the weight and if they do…they win their dream wedding. The show is hosted by recent weight loser Sara Rue, who is also getting married, and she does a good job rooting for the couples. The couples are made up of different types and each have their own dream weddings that not all the couples see eye-to-eye on. Like one couple is a gamers, another is eco-friendly, another want a Greek (think college) one and so one. It will be interesting who wins the wedding and who loses for the honeymoon? Did I mention about that? Tune into to Shedding for the wedding to find out…
---
America's Next Top Model's Nigel Barker has hair
February 3rd, 2011 under America's Next Top Model. [ Comments: 3 ]

WireImage
Ever since the start of America's Next Top Model started we have seen Nigel Barker with an extremely close buzz cut. But yesterday while he was promoting his book Beauty Equation, we got to see him with some hair on the top of his head. Now that we know what he looks like with hair, I think he needs to shave his head again.
---
Tyra Banks clamis she had nothing to do with this America's Next Top Model ad!
August 16th, 2010 under America's Next Top Model. [ Comments: 1 ]

America's Next Top Model has taken a lot of criticism over this promo that was described as the girl with the smallest waist in the world. Well today Tyra Banks responded to the criticism and she claims she had nothing to do with it.
Tyra's Take On Top Model Controversy

First and foremost, I want to give a personal shout-out to each and every one of you who spoke out and took a stance on the Top Model Cycle 15 teaser trailer that was released last week. My life's mission is to expand the definition of beauty – EVERY kind of beauty! This is one of the reasons I created "America's Next Top Model" just 8 years and 15 Cycles ago…since then we've challenged all different stereotypes of beauty with race, weight, height and beyond. The overwhelming response sparked by the Top Model trailer shows that the overarching message of the show – to accept and celebrate all types of beauty – is reaching and affecting our viewers. I knew I had to address this once I realized that this message was on the line.

On behalf of the entire Top Model team, I am truly sorry for the style in which the Top Model promo clip was presented. Like all of my projects, I am extremely involved in "America's Next Top Model" from casting the final contestants to conceptualizing the episode challenges, but with all the work and details that go into producing a TV show, I can't be 100 places at once (although I try), but it's just impossible for me to see everything that's created before it's released to all of you! That being said I can assure you – that cut has been removed from the CW airwaves, and the message conveyed in that video was NOT intentional, and is certainly not Top Model- or Tyra-approved. The Top Model team is extremely talented and truly enjoys creating fun, engaging promos and episodes for you. The team really wants to entertain you, while promoting and embracing multiple forms of beauty. Sometimes in the quest to have fun in a limited amount of time, especially in a 20-second promo, our overarching message can be misconstrued, and in this case it most certainly was.

To the people who see me as a representation of upholding the fact that beauty comes in all sizes, I personally apologize. The jokes of my fellow judges connected with my edited sound bite sounded like I was supporting unhealthy eating habits. This has never and will NEVER be the case – I am and will always be committed to promoting healthy body image.

As a pre-teen, much of the body image pain I experienced was NOT being able to gain weight. Being so incredibly thin, I was the receiver of countless stares; feeling helpless. I've also been (VERY) publicly attacked for being bigger. Being on the receiving end of both sides of that pain has really shaped my perspective.

Ann (the young woman featured on the Cycle 15 promo) like so many other women that stand before us on the Top Model judging panel or approach me on the street, was experiencing her own internal struggles with her body, and the cruelty she faces on a daily basis directly related to the way she looks (stemming from her 6'2″ height), some of which is revealed in the upcoming season. I offered her the same level of support and encouragement I've extended to all younger women that have opened up to me – the girls and young women who attended my TZONE camp way back, guests on The Tyra Show, past Top Model contestants and strangers on the street. Having the opportunity to be there and help all of these women drives me to further my mission.

Taking a look ahead, on Sept 15th, week two of the new episodes of Cycle 15, we do a photo shoot that deals with beauty, body image and bullying. This is an issue that I'm passionate about and am so happy we did. The girls really express what they are insecure about in a big way. Many sensitive issues are discussed at the shoot and in the judging room. I'd like to ask you to do something – it would be great if you could show support for them as well as people you know going through similar circumstances. The Top Model girls exposed themselves, to heal themselves and you. For some, it was a painful process.

Again, if you're ever unhappy with anything you see, we want to know. I want to know. Thank you so much.

Tyra
While I understand that try to show all sizes of beauty on the show, they always seem meaner to the plus-size models (which aren't always plus-size) than they are to the skinny ones. It really came off as they were praising this model with such a tiny waist to me.
BTW do you think that Tyra was sincere with the message she put on her website? I think she was very sincere when she told us to watch it on September 15th.
---
Tyra Banks is rabid
May 1st, 2010 under America's Next Top Model. [ Comments: none ]

Tyra Banks started off her show pretending that she was bit by rabid dog and has rabies. It was the stupidest thing I have ever seen on Daytime TV, that it made Jerry Springer look as intellectual as NPR. I don't have words to describe how asinine that was, but I think the audiences reaction says it all.
BTW just like a rabid dog is put down, thankfully soon her stupid talk show will follow the same fate and her sad chapter of daytime television will be closed forever.
---
Tyra Banks makeup free
March 25th, 2010 under America's Next Top Model, No makeup. [ Comments: 3 ]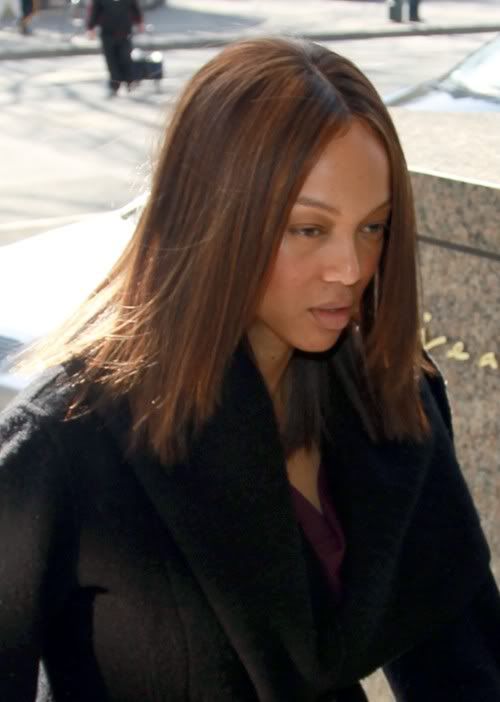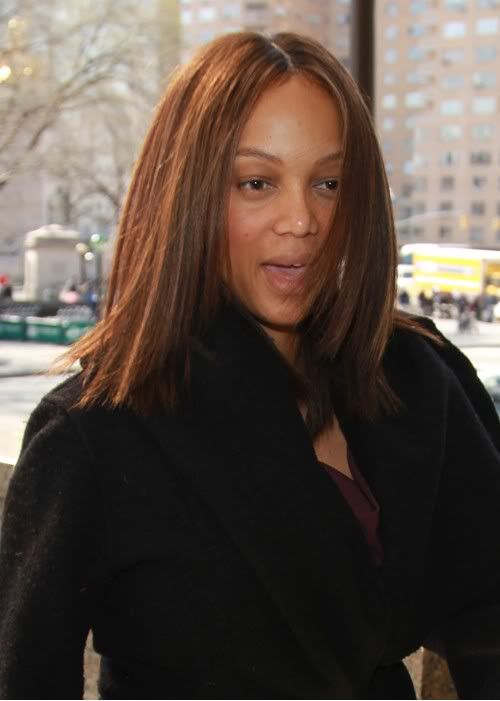 Fame Pictures
Tyra Banks actually ventured out of her house into public without makeup and America's Next Top Model host looked anything like a fresh-faced model. I think the soon-to-be-out of talk show host is really plain without being glammed up with facial paint. She didn't even follow the advice she gives to the contestants of ANTM and Smeyes for the paparazzi.
---
A twice fallen America's Next Top Model
March 18th, 2010 under America's Next Top Model. [ Comments: 2 ]

Yesterday on The CW America's Next Top Model the girls had to walk the runway and avoid getting hit by two swining pendulums. Alexandra like all the models was ready to attempt the challenge, but unlike the other girls she fell short on the challenge not once but twice. First she fell walking down the steps, which left everyone in gasps. Then it looked like things turned around for her as she successfully walked past the pendulums and didn't get hit, but then as she attempted to walk past then again she got smacked in the a$$ and fell off the runway! Since she only suffered some minor cuts and because she was not eliminated from the competition, I don't feel as guilty saying I can't stop watching that video over and over again and laughing my a$$ off!
---