Johnny Depp didn't get the girls in high school
July 2nd, 2013 under Jimmy Kimmel, Johnny Depp. [ Comments:

none

]




Ever since Johnny Depp was on 21 Jump Street, every girl in high school has wanted to make out with him. But when Johnny Depp was in high school, he could barely get any girl to kiss him.
Yesterday the man who never ages was on Jimmy Kimmel Live! yesterday and Depp kissed him on the cheek and then twice on the lips (he also kissed him again on the lips at the end of the interview, but that is not pertinent to the story). After their liplocks the ABC host declared, "That's more kissing than I did in all of high school." To which Depp replied, "Me too." Wait, what? Were those girls idiots? I am sure now they feel that way because they could've been telling their grandkids that their first kiss was with Jack Sparrow, but no, they missed their chance. Dumb b!tches. If I went to high school with him, I would've done more than just kissed him. I mean look at him.
But now back to him, what does he attribute as the reason why those girls missed out on all that is him. He said back then, "In high school, I was kind of the long haired." I don't know what was wrong with them, I would've thought that is something to grab hold of and run my fingers through. Oh well, their loss or should we say keep?
After those kisses they went on to talk about more stuff, but to me is was all wah wah wah because all I could think of was what were those girls thinking?
Now when it comes to Kimmel, he had a really good night. Not only did he get 4 kisses from Johnny Depp, he also got kissed on the lips by Rebecca Romijn. No word if after that lip exchange, if Jerry O'Connell gave him a matching black eye for kissing his wife even though she kissed him.
---
The new Lone Ranger trailer with a lot less Tonto
April 17th, 2013 under Johnny Depp. [ Comments:

none

]

The final trailer is out for The Lone Ranger and this time the title character is featured more than his sidekick Tonto. While it makes the film that comes out on July 3rd seem a lot more watchable, it still doesn't make me want to go see. If I want to see a modern day action flick set in the past, then I will re-watch Abraham Lincoln Vampire Hunter instead. At least that movie was in on the joke.
---
We almost lost Johnny Depp to a horse
February 22nd, 2013 under David Letterman, Johnny Depp. [ Comments:

none

]

Johnny Depp was a guest on The Late Show yesterday and he told David Letterman how he almost met his maker on horse while filming The Lone Ranger.
They were filming a scene where he was riding a horse after a long day of riding the horse decided to do some of the obstacles that were in his path. When he jumped over one of them, Depp fell sideways because the saddle he was using was made so he would look like he was riding bareback. Depp knew he had to make a decision, either fall off of the horse or stay on until someone could stop it. He opted for falling and luckily the horse jumped over him and he only suffered minor injuries.
Thankfully all is OK because the world is not ready to lose that pretty face. At least I know I am not.
---
Put on the blindfold to watch The Lone Ranger
December 11th, 2012 under Johnny Depp. [ Comments:

none

]

The website for the new The Lone Ranger movie is PutOnTheMask.com and I think you should put on a blindfold instead if you are planning on going to see that movie when it comes out on July 24th. Seriously how awful does that movie look? It's like they spit on the legacy of The Lone Ranger and Tonto to make that piece of sh!t.
Plus who is going to want to see Johnny Depp looking like crap? We only go to see his movies to look at his beautiful face not see it covered up with ugly face paint.
---
Lone Ranger looks as bad as Johnny Depp's makeup in it
October 3rd, 2012 under Johnny Depp. [ Comments:

none

]

The first trailer is out for Lone Ranger and it looks so awful I refuse to tell my dad, who is a huge fan of the masked hero, about it. Fans of the series will be devastated by how bad Tonto looks in it, but people who are not familiar with the Lone Ranger will enjoy seeing a modernized Western. Personally I think Westerns need to remain in the past and not be all turned into the Matrix style with a lot of CGI fighting going on. But that is me and not the teenage boy who will run out to see this. I don't think teenage girls will be running to theaters to see Johnny Depp looking like that when the flick comes out on July 3rd. But I could be wrong.
BTW can Hollywood make a law that Depp and Helena Bonham Carter are not allowed to do movies together any more. I mean it is seriously enough already.
---
Johnny Depp is a single man!!!
June 19th, 2012 under Johnny Depp. [ Comments:

none

]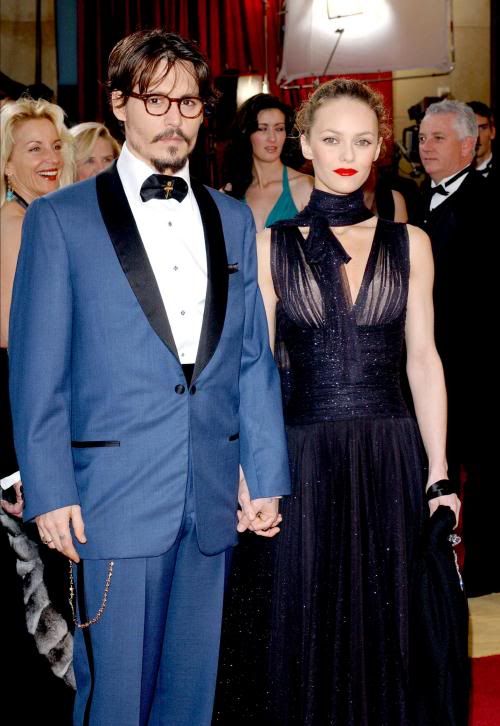 (photo from Fame Flynet Pictures)


The news that women around the world have been waiting 14 years to hear, is finally being heard. According to People, "Johnny Depp and Vanessa Paradis have amicably separated. Please respect their privacy and, more importantly, the privacy of their children." As happy as I am to hear that he is a free man, I am saddened that his relationship didn't work out because he seemed so in love with her. I remember in an interview he said he knew she was the one as soon as he saw her and he only saw her from behind at first. I always that was so romantic.
The former couple who never married have two kids together, Lily-Rose, 13, and Jack, 9.
---
Is Johnny Depp f*cking Jimmy Kimmel?
May 9th, 2012 under Johnny Depp. [ Comments:

none

]





The ever-so-sexy Johnny Depp was on Jimmy Kimmel Live and the ABC late night host said to Jack Sparrow that several of the women in the audience think that he will make love to them. Barnabas Collins then said to him, "Well I was hoping you and I could talk." Flattered, as anyone would be, Kimmel responded with, "I'm game for anything." Without hesitation Edward Scissorhands stood up and said, "Let's go." Sadly he sat right back down and continued the interview and we learned so much about one of the most desirable men in the world. He was just so cool and laid back as he talked about hanging out with people that we can only dream of spending time with, like it was nothing. And I think the fact that he is so private is why he can jam with Paul McCartney, ambush Don Johnson with Hunter Thompson and say Marlon Brando was one of his favorite people to hang out with. Seriously he just seems like someone you want to spend the night with and pick his brain because he is just so interesting. Then once you got everything out of him, there is something else you want to do with another part of his body. At least I know that is what I want to do over and over and over again.
Seriously after watching that interview, I am kicking myself in the a$$ for not going to watch that show tape.
---
Just when you thought Johnny Depp's Willy Wonka couldn't get any stranger
May 8th, 2012 under Ellen DeGeneres, Johnny Depp. [ Comments:

none

]

Johnny Depp is a guest on Ellen today and he shared with us whom he based his character Willy Wonka on in the movie Charlie and the Chocolate Factory. He told Ellen DeGeneres, "I imagined what George Bush would be like incredibly stoned. And, thus was born my version of Willy Wonka." Now when you go and watch the movie again, because you know you are going to, see if you can an extremely high former President in Depp's Willy.
BTW I haven't been this destroyed about finding out who an actor based their character on since Christian Bale admitted that American Psycho's Patrick Bateman was based on Tom Cruise.
---
Hi-yo Silver away with the new The Lone Ranger
March 8th, 2012 under Johnny Depp. [ Comments:

none

]

The first image is out for the new version of The Lone Ranger with Johnny Depp and Armie Hammer, and all I have to say after seeing it is I won't be seeing the film when it comes out next May. Why does Depp always have the worst makeup done to him in almost every film he does. And this one has nothing to do with Tim Burton.
---
Someone please stop Johnny Depp from making movies with Tim Burton.
January 20th, 2012 under Johnny Depp. [ Comments:

2

]

Johnny Depp is making yet another movie with Tim Burton and I want someone to stop this madness now. Please please please.
That latest flick is yet another remake and this time it is Burton bringing the television show Dark Shadows to the big screen. After seeing the first pictures from the Warner Bros. movie that also stars Michelle Pfeiffer, all of the actors from the original soap that are no longer with us are turning over in their graves seeing what a mockery they are making of their legacy.
Seriously I hate stupid remakes and I hate Tim Burton movies, so the two combined just makes me go to the corner, crawl into a ball and cry until there are no tears left.
Please Hollywood stop this now because this movie is going to bomb and it is not fair for Depp to see his career go down the tubes because of another sh!tty remake done by Burton. The collaboration worked in the '90s, but it has not worked in the new millennium, so we need to stop it now before it goes any further. Does anyone want to see them make another movie together ever again?
---