Val Kilmer is back to his top gun self!
February 19th, 2014 under Val Kilmer. [ Comments:

none

]

Val Kilmer Tweeted this picture of himself looking a little skinnier than he has in recent years, so I had to know if he lost a few pounds. One of my favorite actors Tweeted me back when I asked him if he lost some weight and said, "Yes. I've been writing a film about Mark Twain and Mary Baker Eddy for years now and there's a lot of hours in a chair…" Now not only am I looking forward to seeing a full body shot of the 54 year old, I also can't wait to see this film that he has been working on for the last few years.
Seriously, doesn't the real genius look absolutely fantastic?
---
I am under Val Kilmer's spell!
October 5th, 2013 under Val Kilmer. [ Comments:

none

]

Val Kilmer Tweeted this hypnotizing selfie and I feel like I will do whatever he wants. Granted it could be the picture behind him, but there is just something about this photo that has me under his spell.
Am I the only one who feels this way?
---
Andy Richter photobombs Val Kilmer's selfie lesson!
August 13th, 2013 under Conan O'Brien, Val Kilmer. [ Comments:

none

]

Val Kilmer was a guest on Conan O'Brien's talk show yesterday and the TBS late night host asked if the Too Gun would show him how to do a selfie. You know, since the actor is a real genius at them. So of course he agreed and just as they were about to snap the picture, the red head decided he wanted Andy Richter to photobomb it. What happens next is one of the greatest selfies yet with a photobomb.
So if you want to see how the picture came out, then click here!
---
Is Val Kilmer's face melting?
August 12th, 2013 under Val Kilmer. [ Comments:

2

]

Val Kilmer Tweeted the above picture looking like he got the worse facial ever, so is his face melting off? Nope, it was just part of a day's work where putting on his face is taken literally.
---
What if M Night Shyamalan directed Real Genius?
February 24th, 2013 under Val Kilmer. [ Comments:

none

]

Real Genius is one of my favorite movies and I love it the way it is. But after watching reedited trailer that DonDraperSaysWhat came up with, I think I could finally appreciate a M Night Shyamalan movie. Scary how well it works.
---
A Willow reunion!
February 14th, 2013 under Val Kilmer. [ Comments:

none

]

Back in 1988 a movie came out called Willow starring Val Kilmer as Madmartigan and Warwick Davis as Willow Ufgood, and now 25 years later they are reunited in our world. So what brought these two together after a quarter of a century? The Top Gun flew to London to guest star in Warwick's mockumentary Life's Too Short that will air on the BBC soon.
Even though it has been 25 years since we saw them in that fantasy film, they still look great!
---
Remember when you wanted to see Val Kilmer topless?
January 31st, 2013 under Val Kilmer. [ Comments:

none

]

Val Kilmer Tweeted the above photo of his "Morning hair" and all I could do was look at the ones on his chest. There was a time in my life where all I wanted to do was see that top secret chest but not so much anymore. Heck who am I kidding, I still want to see those pecks.
On a different note now we know carpet matches the drapes!
---
The many faces of Val Kilmer!
November 5th, 2012 under The Many Faces of, Val Kilmer. [ Comments:

none

]

WENN.com
Val Kilmer was filming a scene for Terrence Malick's top secret new project and at first sight the real genius looks like he ready to kiss kiss bang bang all the people he is performing to. Seriously with all of the expressions he had in these pictures the top gun could be the man who broke 1,000 chains especially in that last picture!
---
Val Kilmer's magical hair!
November 30th, 2011 under Val Kilmer. [ Comments:

none

]

WireImage
When Val Kilmer wears a hat his hair looks unkempt and unwashed, but the second he takes it off it looks Fabio's flowing blonde locks. Isn't that magical how he can transform just my not leaving his hat on?
---
Who looks better in a light blue shirt…Val Kilmer or Ryan Reynolds?
January 20th, 2010 under Better than..., Ryan Reynolds, Val Kilmer. [ Comments:

2

]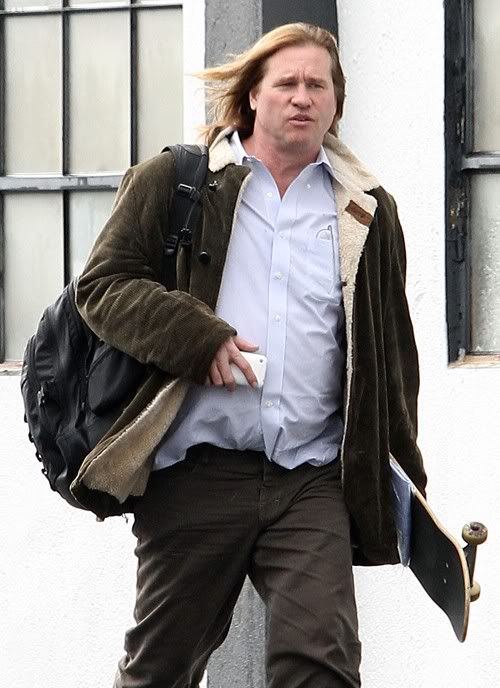 Fame (Val Kilmer) and Pacific Coast News (Ryan Reynolds)
Yesterday both Val Kilmer and Ryan Reynolds were seen wearing blue buttoned down shirts that were coming out of their pants and I wondered who wore it better? Well like duh, this totally goes to Ryan Reynolds. Come on he looks good in everything he wears…especially when he isn't wearing any shirt at all!
BTW both Val Kilmer and Ryan Reynolds were on my To-Do list, but I took both of them off it for very different reasons.
---