Katie Couric asked La Toya Jackson if she's a virgin
April 16th, 2013 under The Jacksons. [ Comments:

none

]

La Toya Jackson was a guest on Katie Couric's talk show and the host asked her about her love life. Katie didn't stop there, she also asked the singer if she is a virgin.
Couric's logic was that in the past La Toya admitted that she never consummated her marriage and that she has dated since it ended. So the former news lady had to find out the truth. Well La Toya didn't give her what she wanted and avoided the question. I guess Katie isn't as good as getting to the truth as the middle Jackson sister is as finding it out.
---
The many faces of Janet Jackson
November 4th, 2010 under The Jacksons, The Many Faces of. [ Comments:

2

]

WireImage
Janet Jackson was promoting her movie For Colored Girls and her face is giving color commentary how she feels about the reporters' questions. Boy seh definitely has a lot of expressions, who knew because she always seem to be smiling. Well except for that time that Justin Timberlake revealed a little too much of her at the Super Bowl and her face showed shock.
BTW boys now that I have said that, look are her eyes…just try.
---
Don Rickles and La Toya Jackson paint the town red
September 17th, 2010 under The Jacksons. [ Comments:

none

]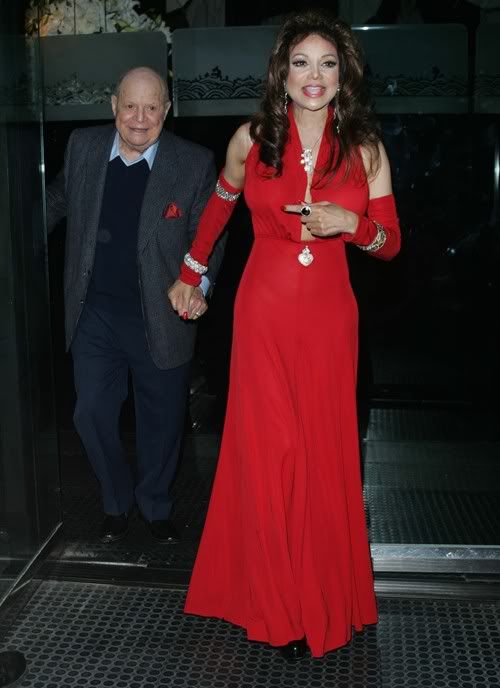 Fame Pictures
Legendary comedian Don Rickles was seen coming out Mr Chow with La Toya Jackson. Out of all the people I expected to see the 84 year old with, La Toya was no where on the list. I wonder how these two connected, even better I wonder what they talked about. She is such an easy target for him to insult, imagine the jokes he must have said about her that she didn't get…
---
Why did Janet Jackson do this to her hair?
June 4th, 2010 under The Jacksons. [ Comments:

1

]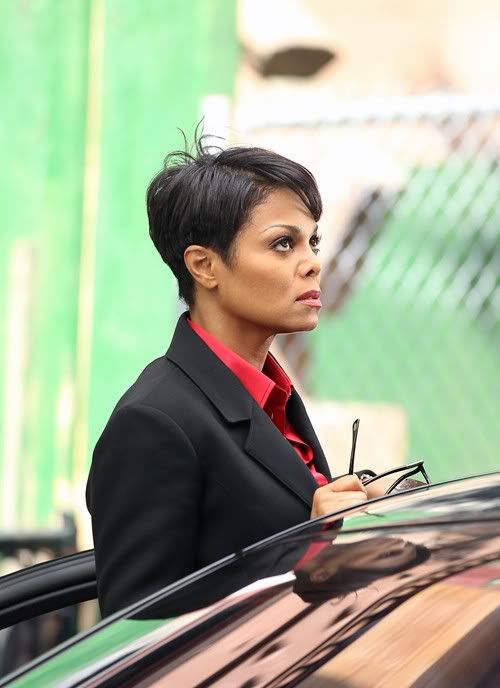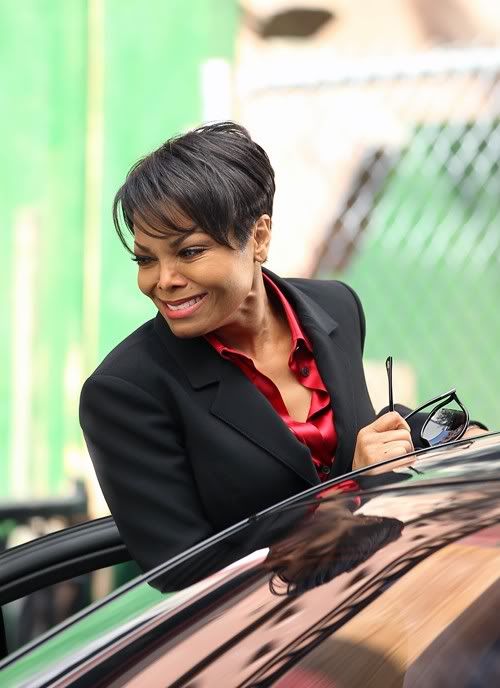 Fame Pictures
Two weeks ago Janet Jackson debuted her new short do and up until now we had only seen it slicked back. Well yesterday while she was filming For Colored Girls Who Have Considered Suicide When the Rainbow Is Enuf in NYC we got to see it relaxed and it seriously aged her at least 10 years. I don't know why the youngest Jackson chopped off her hair because the 44 year old singer/actress is looking more like she is 54 with that new style. Janet is a beautiful woman and I thought her face would be able to pull it off, but now I am having second thoughts about it. Especially when the wind gives her the Alfalfa look. Hopefully as soon as she is done with this movies she will get extensions to go back to her old look.
---
Janet Janet says thanks!
June 1st, 2010 under The Jacksons. [ Comments:

none

]

Janet Jackson is so thankful that her American Idol performance is a #1 on iTunes that she recorded this Thank You message. While the recording is awkward and amateurish you can tell that she sincerely meant it. I would think someone of her caliber would've hired a professional to shoot it instead of phonecording it. But you know what because it is so raw, I have so much respect for her being so honest and humble about it. Just for that I will buy her album. I really like when someone as big as her can take the time to says thanks to their fans. I just wish more celebs were like her. I also wish she didn't cut her hair off because I don't think that look is working for her.
---
What did Janet Jackson do to her hair?
May 20th, 2010 under The Jacksons. [ Comments:

none

]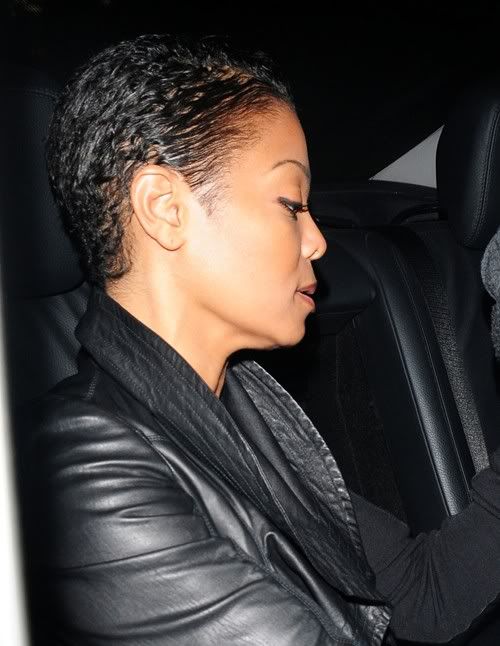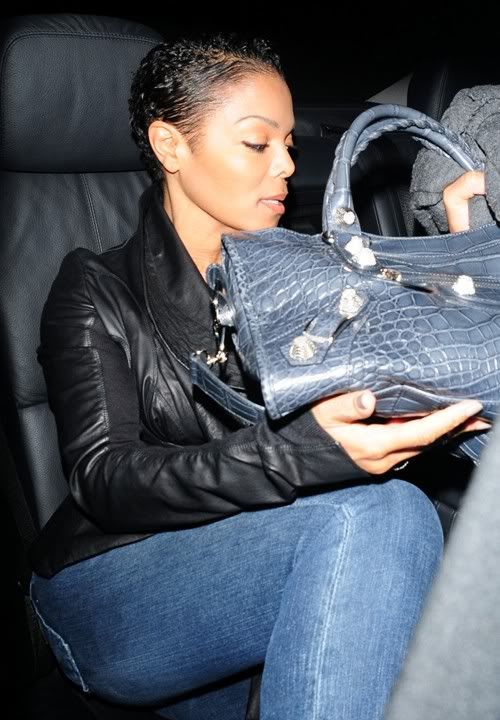 Pacific Coast News
Janet Jackson was photographed in London with a very short do and all I want to know is why did she do that? Janet is a beautiful woman with a gorgeous face and she can totally pull it off, but why would she want to? Maybe it will look better when she styles it a little better, but what does she have left to style? Hopefully she will get a weave as soon as she can because that look is so not working for her.
---
Did American Idol call the wrong Randy Jackson?
December 9th, 2009 under American Idol 1-5, Jimmy Kimmel, The Jacksons. [ Comments:

1

]

(starts at 4:08)


Three of the Jackson brothers were on Jimmy Kimmel Live yesterday and Jimmy asked them "Does your brother Randy ever get mad that Randy Jackson is on American Idol and now everyone is confused?" Tito Jackson responded by saying, "I got a call that they were actually looking for Randy Jackson, my brother, some how they called Randy Jackson the record executive." So Jimmy quizzically asked, "You think they accidentally hired him for American Idol?" So Tito calmly said, "Randy Jackson answered the call" and Jackie added, "My brother didn't." Do you believe the Jackson brothers? Part of me thinks it is a good story for them to tell, but the other part is going he would've made more sense than Randy "Dog" Jackson. Could you imagine American Idol with The Jackson 5 Randy Jackson instead of the Dog one? Maybe Paula Abdul would still be on the show and Simon's opinion wouldn't be the only that mattered. Now could you imagine if the story is true, how much would it suck for Randy the only Jackson brother besides Michael to have a common first name to lose out on judging AI because his name is so popular? I mean you have a Marlon, a Jackie (not a common male name), a Jermaine and a Tito and it is poor Randy who got screwed because no one would ever confuse Michael for any other Michael Jackson.
BTW the three brothers also told Jimmy that they were working on the reality show that is airing on A&E before Michael Jackson died. I believe that, I just don't think anyone cared about them until he did. It is so weird that those 3 are brothers because none of them look alike and definitely none of them look like Michael did.

Lastly the annoying Jake Byrd mentioned Jermaine Jackson's song Dynamite and I haven't thought about that most awesome song in ages, so here it is for all of your to enjoy!!!
---
Will we finally hear Michael Jackson's kids on the reality show?
October 14th, 2009 under The Jacksons. [ Comments:

none

]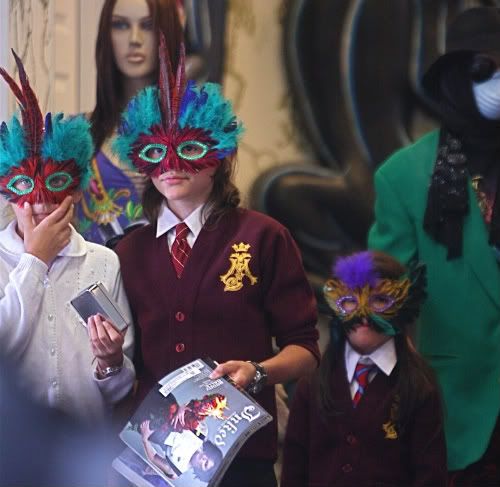 For years Michael Jackson's kids were hidden behind masks and pretty much silent to us, and now
Us Weekly
is reporting not only will the be unmasked but they will be part of his brothers reality show on A&E. By having them on the show we will finally hear them talk, something that we have very rarely heard before.
While most of the public (including me) will finally be happy to hear from Prince, 12, Paris, 11, and Blanket, 7, not everyone is happy that they are part of the show. Us Weekly says, "Eldest sister Rebbie, 59, who has refused to be in the series (called The Jacksons: A Family Dynasty, tentatively set to air in December), 'feels Michael would spin in his grave if he knew his kids would be on this show.'" I can understand her point of view because he really liked to keep his private, but having them on during the 5 hours reality show actually makes we want to watch it for the first time. Would you watch just for them like me?
---
The surviving Jackson men are getting their own show on A&E
August 25th, 2009 under The Jacksons. [ Comments:

2

]

The Jackson brothers can't stop trying to figure ways to keep making money off the death of brother Michael Jackson and the latest way they will be doing it is with a reality show on A&E. According to The Live Feed, "The series will show the brothers dealing with matters related to the King of Pop's death and issues in their own lives." I refuse to watch a show where people profit off the death of their loved ones. Plus of the surviving siblings only Janet and LaToya are the ones who are interesting to watch. Are you going to check it out when it comes out?
---
Janet Jackson made us cry at the BET Awards
June 29th, 2009 under Michael Jackson, The Jacksons. [ Comments:

2

]

Janet Jackson represented The Jackson Family last night at the BET Awards and in her short speech she will bring/brought tears to your eyes as soon as you see her. As she said, to us he is an icon, but to her he is family. Hopefully our love and support will get her family through this horrible time.
While we felt her pain, her father Joe Jackson's not-so-much during this interview on the red carpet at the Awards with CNN where he made sure to plug his record company.
---