Ron Burgundy anchors the news in Bismark, ND
December 1st, 2013 under Frat Pack. [ Comments:

none

]

We are just 17 days away from the release of Anchorman 2 and they came up with a great way to promote the movie. Ron Burgundy actually anchored the news at KXMB in Bismark, ND yesterday. What we got from it was a half hour news broadcast that was able to Stay Classy and it was extremely funny!
BTW you have to feel bad for his co-anchor, Amber Schatz, who tried her hardest not to lose it during the newscast. I don't think I would've been able to do it.
---
Rob Burgundy is a Loverboy!
November 20th, 2013 under Conan O'Brien, Frat Pack. [ Comments:

none

]

Rob Burgundy was on Conan O'Brien's TBS talk show tonight and the legendary news anchor sang his campaign song for Toronto Mayor Rob Ford. That tune is Loverboy's Working for the Weekend and it is epic. Especially when you add in his one of a kind flute solo!!! With that I think that Ford has a good crack of getting reelected next year!
---
BTWF roles: Will Ferrell on Grace Under Fire
November 20th, 2013 under Before They Were Famous, Frat Pack. [ Comments:

none

]

(starts at 11:50 in)


Before Will Ferrell was an alcoholic in Everything Must Go, he was going to AA meetings on Grace Under Fire. He looks the same now as he did when he was 27 years old in that 1995 episode.
---
Anchorman 2 looks painful
October 23rd, 2013 under Frat Pack. [ Comments:

2

]

The first full trailer is out for the much anticipated Anchorman 2 and it looks very painful. As in the actors were in a lot of pain when they made the movie that comes out on December 20th.
BTW I think Steve Carrell is going to steal every scene he is in. At least he did in the trailer.
---
The Internship looks like it will get a F-
February 13th, 2013 under Frat Pack. [ Comments:

none

]

The trailer for Owen Wilson and Vince Vaughn's latest film is out and it looks like The Internship is going to fail when it comes out on June 7th. When a movie's funniest gag is someone getting punched in the balls, you know is going to be a bad. Not that I have a problem seeing someone get it to the balls, but when that is the highlight it is sad.
---
Will Ferrell's mustache is bushier than his hair!
January 25th, 2013 under Frat Pack. [ Comments:

none

]

WENN.com
Will Ferrell was seen out at the premiere of Hansel And Gretel: Witch Hunters and he debuted his new shorter haircut and a very full mustache. So I think that only means one thing, he has gotten his Ron Burgundy on.
Now I want to know what type of weed wacker he is going to use to get that mustache off when he is done filming Anchorman 2? That thing is scary. It can take out someone's eye or worse.
---
Owen Wilson's son does not have his nose!
September 12th, 2012 under Frat Pack. [ Comments:

none

]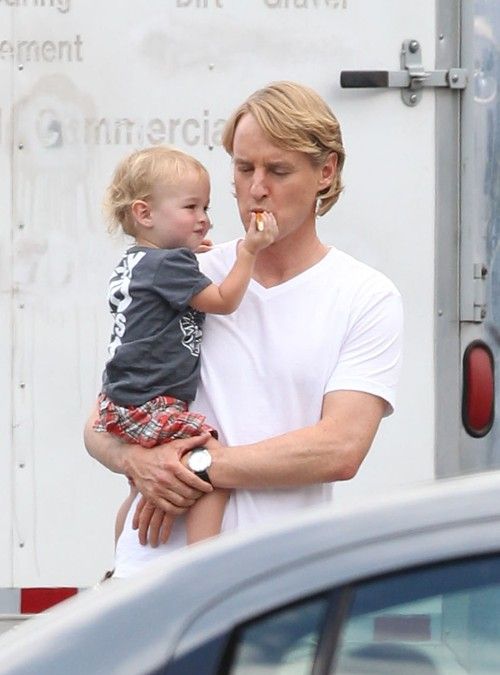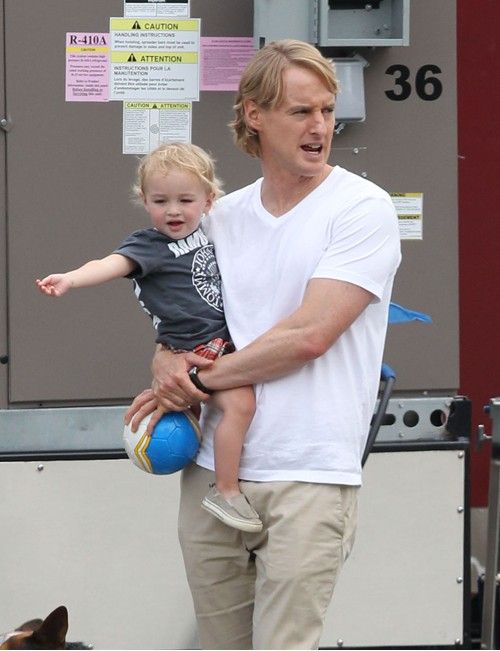 Fame Flynet
Owen Wilson is filming The Internship and he brought his nearly 20 month old son to the set. Robert Ford looks just like his dad, well before his father broke his nose all of those times. Seriously how cute Wilson's little boy?
---
Will Ferrell stars in the XXX version of Big Dick, Little Chicks!
August 9th, 2012 under Conan O'Brien, Frat Pack. [ Comments:

none

]

Conan O'Brien launched a site called XXX with a certain type of movie genre and his newest one Big Dick, Little Chicks stars Will Ferrell. The Anchorman plays a role he is very familiar with and that is a Big Dick. But just like every movie he has some co-stars in it and they are played by Little Chicks. Words cannot describe this film, so all I will tell you about it is that you will totally eat it up. That is unless your a vegan or a vegetarian.
Side note – No chicks were hurt in the making of the Big Dick, Little Chicks, but they made for good chicken nuggets at the wrap party.
---
Will Ferrell calls Kristen Stewart a Trampire!!!
August 2nd, 2012 under Frat Pack. [ Comments:

none

]

Will Ferrell is on Conan O'Brien's TBS talk show tonight at 11p and he seemed very upset. So the red headed host asked him what was wrong and he completely lost when he explained that he is so broken up that Kristen Stewart aka K-Stew cheater on Robert Pattinson aka R-Patz. I have seen the YouTube where Twihards have cried over the affair and none of them were as torn up as the Anchorman. Who knew he was so into the Twilight movies? I guess the "Trampire" won't be in any of his movies any time soon. BTW I love the name he gave her, it is so fitting.
---
Who would ever think that Vince Vaughn loves The Brady Bunch?
July 31st, 2012 under Frat Pack. [ Comments:

none

]

Out of all the people that I could think of that would love The Brady Bunch, Vince Vaughn was on the bottom of my list. But I guess you can't always assume what people like because he is working on bringing the show back. According to Deadline he came up with the idea and started working with writer Mike Mariano (Raising Hope, My Name Is Earl) on it. Like 90210 and Dallas, it will be about the next generation and this time little Bobby Brady is all grown up and he is a divorced father who married someone else who also is divorced with kids and together they have a kid of their own. Not only will the youngest Brady son, his wife and their kids be part of the show, so will their spouses who are still a part of their lives. In other words it a modern family Brady Bunch style.
Right now the show just has a script order, so it might not go any further then that but in Hollywood you never know.
Since the show is just in the early stages, we don't know if Mike Lookinland will reprise his role or if any of the other Bradys will be part of the updated show. Personally I hope that is the case because having Larry Hagman, Patrick Duffy and Linda Gray on Dallas is what makes the great show even better.
---