Christina Aguilera wants you to look at her eyes
April 27th, 2016 under Christina Aguilera, The Voice. [ Comments:

none

]

Christina Aguilera's breasts are almost as big as her voice, so I guess that is why she always shows them off on The Voice. Case in point, here she is yesterday in a tux dress by Pallas Paris and without a shirt you get to see her cumberboobs. How can you not? Giving more credence to the saying, if you have it, flaunt it. And she has it.
---
Did Christina Aguilera just roll out of bed to do The Voice?
April 20th, 2016 under Christina Aguilera, The Voice. [ Comments:

1

]

Christina Aguilera showed up to The Voice yesterday in something that looked more like something you would wear in the bedroom on a romantic night than on a reality singing competition.
On her website she said she was "channeling a retro Marilyn look," but that is not what I saw. She also says that the pink silk jacket is a trench coat, but let's be real it's a robe. When it comes to what is under that "trench," I am sure the boys like seeing her girls.
Did you like "retro Marilyn look?"
---
Eva Longoria got back!
February 12th, 2016 under Christina Aguilera, Desperate Housewives, Heroes, Spike TV. [ Comments:

none

]

Yesterday on Spike TV's Lip Sync Battle Eva Longroia and Hayden Panittere battled it out. The Desperate Housewife mouthed Nicki Minaj's Anaconda, and you can't perform that song without an anaconda. Not the snake, but the body part the snake goes into. That's right, she stuffed her shorts like teen girls stuff their bras. It was worth it because she won. But did she win for being performance or because of her a$$ets? Both!
When it comes to Cheerleader, she got some help as she moved her lips to Lady Marmalade from the Lady Marmalade herself, Christina Aguilera.
They are really bringing out the big guns this season, so I can't wait to see who they surprise us with next.
---
Christina Aguilera posts a topless Selfie
August 12th, 2015 under Christina Aguilera. [ Comments:

none

]

Christina Aguilera is the mother of two children, and yet that isn't stopping her from showing off her toned abs. That wasn't all she displayed in the Selfie, we also got to see her curvy cleavage. Why? She says, "Just so you know with me, it's all real, all the time. Felt like it was time to start sharing some personal stuff with you guys… And it's just the beginning. Night night. X." I guess it isn't only her voice we will be hearing from in the near future. That is why she is the lyrics to her song Beautiful!
---
Christina Aguilera's Genie's bottle is filled with singing impressions!
February 24th, 2015 under Christina Aguilera, Jimmy Fallon. [ Comments:

none

]

We all know that Christina Aguilera can sing, that is why she got Grammys' Best New Artist over Britney Spears. But did you know she can sing like Britney Spears? She does a better Britney than Britney. Yesterday on The Tonight Show starring Jimmy Fallon, she demonstrated her imitation skills and they will blow you away more than her high notes.
Not only can Xtina be Toxic, she can also turn back time to sound like her Burlesque co-star, Cher. Not impressed yet, she can shake her hips, I mean her voice, to sound like her Voice replacement Shakira.
She is so good, forget Neil Patrick Harris getting a Variety show on NBC; she should be the one getting one. Wouldn't you tune in for it?
---
That's why Christina Aguilera got engaged?
February 20th, 2014 under Christina Aguilera. [ Comments:

none

]

On Valentine's Day Christina Aguilera announced that she was engaged to Matt Rutler, her boyfriend of nearly 4 years; and today Us Weekly announced that she is pregnant with their first child together. The singer has yet to confirm the news, but then again she didn't confirm that she was pregnant with Max until she was almost ready to have him.
---
Christina Aguilera performing with a Body of office supplies
November 3rd, 2012 under Christina Aguilera, Jimmy Fallon. [ Comments:

none

]

Christina Aguilera was a guest on Late Night with Jimmy Fallon yesterday and she performed her new song Your Body with The Roots. That sounds pretty boring, but the band did not use their normal instruments instead the background music came from office supplies. Let's just say what they did will blow you away. That and you realize that X-Tina really is The Voice. Holy sh!t that little dynamo can has some pretty huge vocals, and for some reason I forget that about her.
---
The many faces of Christina Aguilera!
October 4th, 2012 under Christina Aguilera. [ Comments:

2

]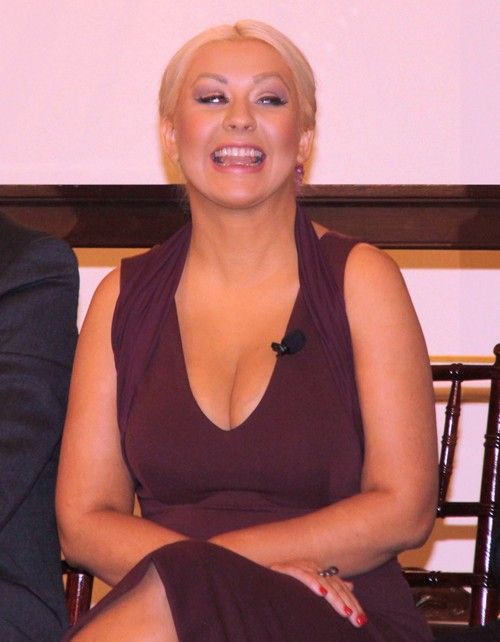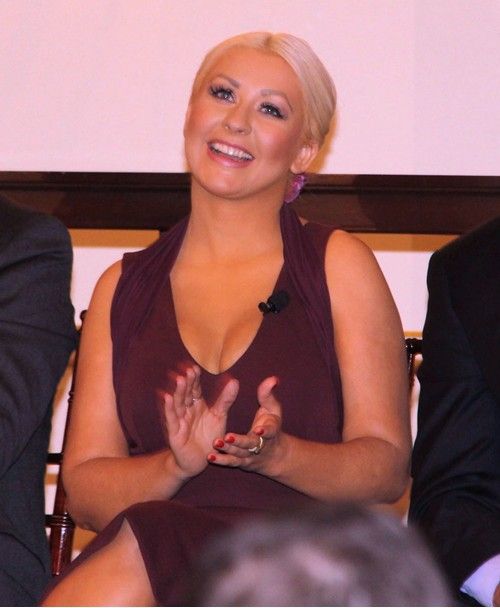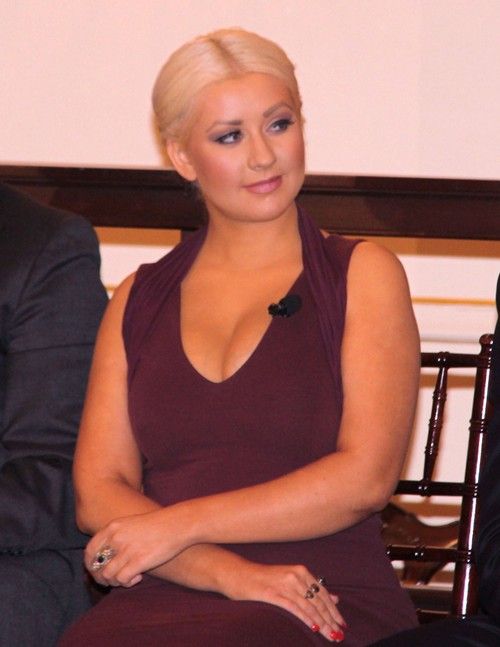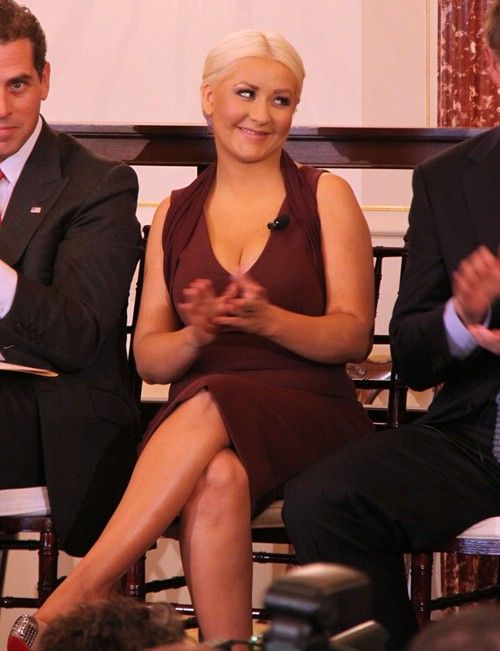 Fame Flynet
Christina Aguilera was honored at United Nations Ceremony for her work with the World Food Organization yesterday. Even though she was honored for doing something smart to me she looked like a dumb blonde thanks to her facial expressions. What is up with those faces?
---
The real Christina Aguilera!
July 30th, 2012 under Christina Aguilera, The Voice. [ Comments:

none

]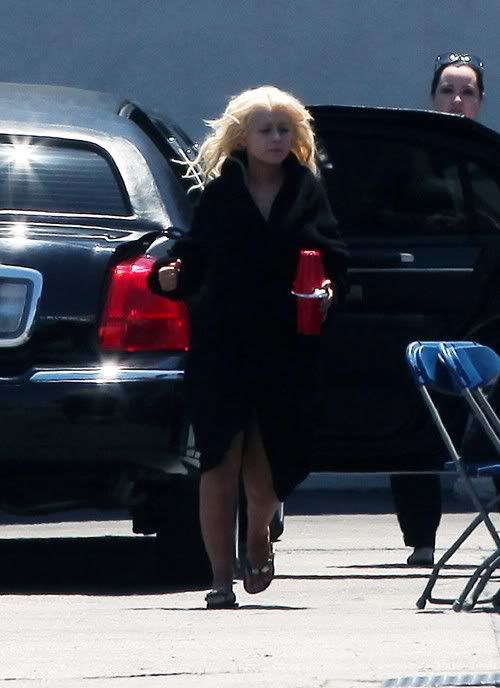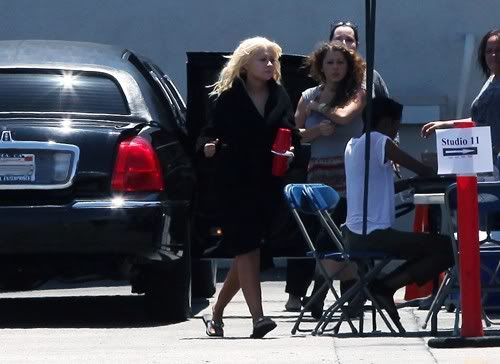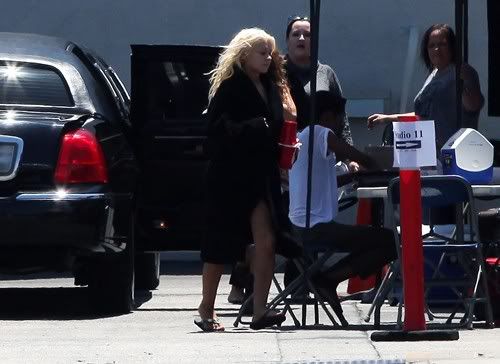 Christina Aguilera was getting ready to film The Voice and Fame Flynet caught her before she went into hair, makeup and costume; and you know what I think she looks better au naturale. Seriously she is a pretty girl naturally, I don't know why she puts on all of that foundation, blush, mascara and red lipstick.
---
Christina Aguilera's hair is bigger than her..
October 9th, 2011 under Christina Aguilera. [ Comments:

none

]

WireImage
Pint size singer Christina Aguilera was performing at the Michael Jackson tribute and her hair was bigger than her voice.
For some reason I don't feel like being mean to X-tina because what I really wanted to say is her is as a big of a mess as her, but I thought that too was to say so I didn't.
---