Kate Hudson 'prefers to be naked'
February 26th, 2016 under Conan O'Brien, Kate Hudson. [ Comments:

none

]

Kate Hudson was on Conan yesterday, and he wanted to know what she meant when she said she prefers to wear as little clothes as possible. She explained, "I do like to be naked. I much prefer being naked than clothed." Then she added, "When I get home, I just want to be naked."
This is something she got from her parents Goldie Hawn and Kurt Russell. She revealed that because her mom was a dancer, she has always been comfortable with her body. But then again, to be fair, the Oscar winner has always had a great body. If I had her figure and Hudson's, I would be naked all the time too. Wouldn't you?
---
Kate Hudson's crotch is hot
February 2nd, 2016 under Kate Hudson. [ Comments:

5

]

Kate Hudson did a photoshoot for Fabletics in a bathing suit and she was cold. So her Glam Squad came up with a way to keep her warm. Instead of using the blow dryers for the hair on the top of her head, they used it on the other area where we grow hair. It worked because it is keeping her toasty.
---
Kate Hudson wants us to feel bad for her
July 1st, 2015 under Kate Hudson. [ Comments:

none

]

Kate Hudson gave us a glimpse of her closet while looking sad and said she has nothing to wear. Poor Kate. All of us have had that problem, but our wardrobe isn't nearly as nice as hers. I don't know about you, but I see a few things I wouldn't mind wearing. What of hers do you wish you could try on?
---
Kate Hudson's body is more than a Nine!
June 16th, 2015 under Kate Hudson. [ Comments:

5

]

Kate Hudson is in Greece and she decided to soak up the sun while she's there. The 36 year old mother of two wore a bikini that left very little the imagination. It showed off her body and it is one that 18 year olds would die to have. I can't get over the tone of her legs and I so want to know her secret on how she got them.
Seriously, if they remake that Bo Derek movie, she would be the ideal choice for the lead. She has definitely earned the right to go from Nine to 10.
---
Do Kate Hudson and Liv Tyler have something to tell us?
July 21st, 2014 under Do they have something to tell us?, Kate Hudson, Liv Tyler. [ Comments:

none

]

Back in the 2000 movie Dr T and the Women, Liv Tyler and Kate Hudson shared a kiss. Over the weekend, the two daughters of rock stars shared another kiss and I have to wonder if they have something to tell us? No, it's just two actresses celebrating 20 years of friendship, but for a second it was fun to think that there was something going on between the MILFs. Right?
---
Kate Hudson was born to play her role on Glee!
September 8th, 2012 under Glee, Kate Hudson. [ Comments:

none

]

Fox has released Kate Hudson's first song on Glee and I hope you can see from it that she was born to play this role. This is seriously her best role since Almost Famous and it's also her best acting and the prettiest she has looked since then. She will wow you and so will Glee that has definitely graduated to a whole new level of greatness. The show has toned down so much, you will once again love to love it and not love to hate it. So mark your calendars because the show will be back to entertain you on September 13th at 9p with a New York State of Mind.
---
BTWF talk shows: Oliver Hudson on The Chevy Chase Show
August 24th, 2011 under Before They Were Famous, Kate Hudson, Oliver Hudson. [ Comments:

none

]

(starts at 1:00in)


Before Oliver Hudson was a guest on the late night talk shows, he was in the audience while his mother was a guest on the first episode of The Chevy Chase Show. How awwwdorable was the 17 year old birthday boy during that 1993 talk show appearance.
---
Oliver Hudson's rules of fear!
August 24th, 2011 under Kate Hudson, Oliver Hudson. [ Comments:

none

]

Oliver Hudson Tweeted the above picture and said, "It's important to show your kids how not to be afraid. To live without fear. #leadbyexample". I thought that picture of his rules of fear was so cute, I had share it with you.
BTW doesn't 3 year old Wilder look just like his dad? Granted it could be because they have the same face of fear in that picture?
---
Matt Bellamy Tweets a picture of his Muses!
August 15th, 2011 under Kate Hudson. [ Comments:

none

]

Matt Bellamy Tweeted a picture of his fiancee Kate Hudson holding their month old son Bingham Hawn and how precious do his Muses look? Thirteen hours after he shared the photo he explained why he Tweeted it and said, "Wow, these paps are annoying. Thought we'd tweet pic in hope of paps backing off, didn't work!" I wonder if the paps will back off now?
Personally I hope his sentiment doesn't stop other celebrities from Tweeting pictures of their new borns because I think TwitPics are more intimate than selling them to the highest bidder from the weekly magazines. Seriously don't you like the pictures that the celebrities share via social networking over the ones in the glossy magazine?
---
Kate Hudson is makeup free with her mini-me!
August 8th, 2011 under Kate Hudson. [ Comments:

none

]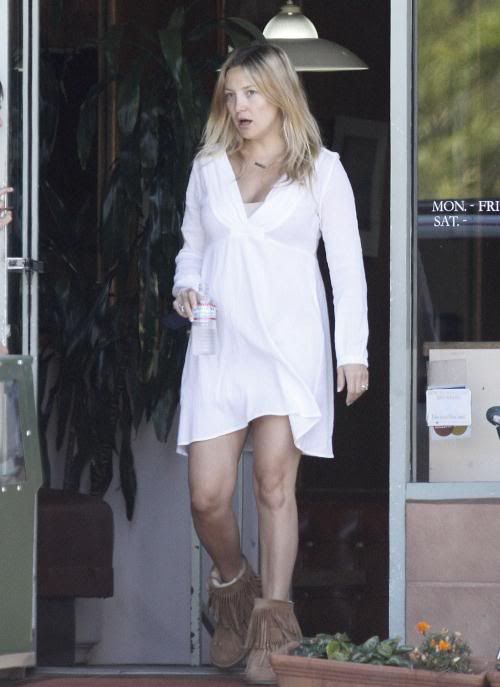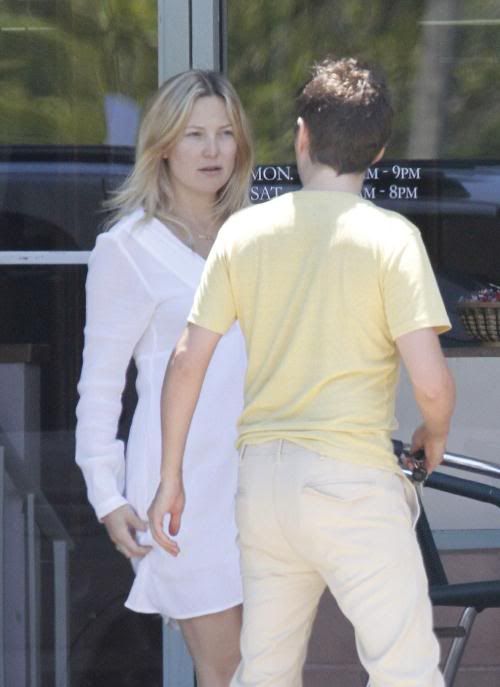 Fame Pictures
Kate Hudson gave birth to her second son a month ago tomorrow and the new mom looks like she almost has her pre-baby figure back. Not only is she showing off her post-baby body, she is also showing us what she looks like without makeup. Even fresh faced, she is just as cute when she has makeup on!
BTW I love that picture of Ryder and her because he is so her mini-me. Doesn't he look just like her?
---