Orlando Bloom is pretty in pink bunny ears
November 29th, 2016 under Kate Bosworth/Orlando Bloom. [ Comments:

2

]

Orlando Bloom is opening the Victoria's Secrets Fashion Show next week. He might not be an Angel like his ex-wife, but looks like he is a bunny like a Playboy Playmate I am assuming he dated at one point. Not saying he did, but he seems like the type who would.
Granted now he has settled down with Katy Perry and look what she has done to him.
---
BTWF roles: Kate Bosworth in Young Americans
July 8th, 2015 under Before They Were Famous, Kate Bosworth/Orlando Bloom. [ Comments:

none

]

Before Kate Bosworth was in love with Clark Kent in Superman Returns, she was in love with Jake in Young Americans. How cute was the 17 year old in that 2000 show?
---
Orlando Bloom can't stop showing off his abs!
December 11th, 2014 under Ellen DeGeneres, Kate Bosworth/Orlando Bloom. [ Comments:

none

]

Ellen DeGeneres challenged Orlando Bloom to a game of Heads Up, and the actor kept lifting up his shirt during it. I get why he did it to demonstrate skinny dipping and strip poker, but why did he do it for shoplifting? Not that I am complaining. And I am so not complaining about his Twerking. Werk it, baby. Werk it!
---
Romeo, oh Romeo, what the f*cketh art thou doing to Romeo and Juliet?
April 1st, 2013 under Broadway, Kate Bosworth/Orlando Bloom. [ Comments:

2

]

Romeo and Juliet has been redone so many different ways since William Shakespear published it in 1597, but the most recent take on it might be the worse one of them all. Orlando Bloom and Condola Rashad are starring in the lead roles on Broadway. According to Playbill, "In this new production, the members of the Montague household will be white, and the blood relatives of the Capulet family will be black. While race defines the family lineages, the original cause of the 'ancient quarrel', passed down by successive generations to their young, has been lost to time. Shakespeare's dramatization of the original poem sets the two young lovers in a context of prejudice, authoritarian parents, and a never ending cycle of 'revenge.' Against this background, the strength of their love changes the world."
Umm isn't Bloom old enough to be Romeo's father? He is way too old for the role. By not making the play about two teens takes away from the premise of what Shakespeare wrote over 400 years ago.
BTW Playbill also says that they will be releasing 100 tickets at $20 each for all the shows and I think that $20 too much for this production.
I hope that this show is killed in the preview stage and never actually opens on Broadway at the end of August. I mean we can't let them destroy such a classic because if they get away with once, they will keep doing it.
xoxo Michael!
---
Does Orlando Bloom have something to tell us?
March 18th, 2011 under Do they have something to tell us?, Kate Bosworth/Orlando Bloom. [ Comments:

none

]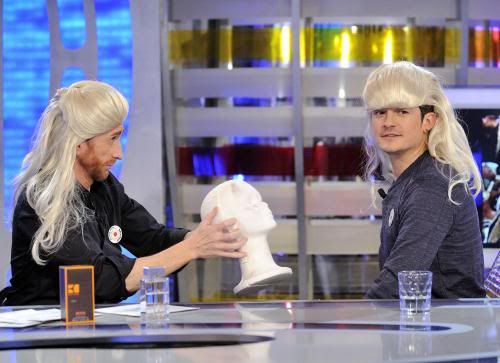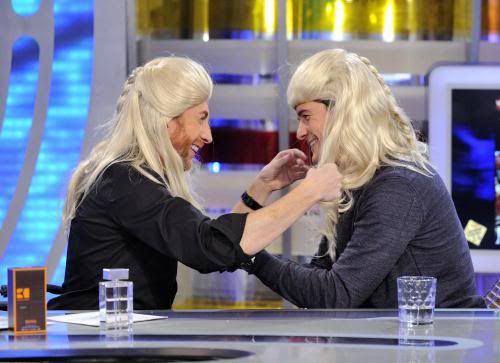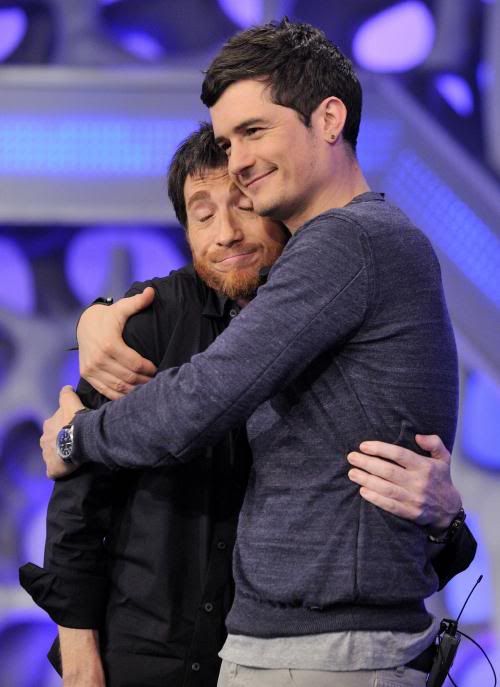 Fame Pictures
Orlando Bloom was promoting the new Boss Orange men's fragrance on the TV show El Hormiguero in Madrid and I wonder if he has something to tell us? The new daddy was seen wearing a blonde wig and kissing the male co-host so now only to I have to wonder not only about us, but also his new wife, Miranda Kerr. Oh wait he is married to her, I don't think there is anything here but an actor having fun on a game show!
---