Samuel Affleck knows how to work his cuteness!
March 7th, 2013 under Ben Affleck/Jennifer Garner. [ Comments: none ]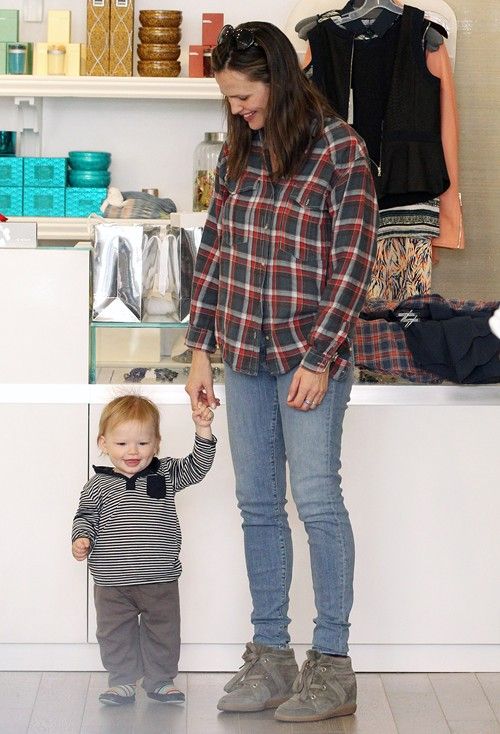 Fame Flynet
Samuel Affleck celebrated his first birthday last week and looks like the cutie is celebrating another milestone…his first steps.
Seriously I don't know what it is about the Afflecks, but they create the most awwwwdorable kids. And just like his older sisters, Samuel knows how to work those dimples so it makes you want to squeeze those cheeks even more! So freaking cute!
---
Ben Affleck's car accident advice is to "flee the scene!"
January 12th, 2013 under Ben Affleck/Jennifer Garner. [ Comments: none ]

Ben Affleck was on The Tonight Show yesterday and Jay Leno asked him about the car accident he got into with a parked car a few weeks ago. Being an honest man, he pulled over and left a note for the driver. Instead of giving his number, he gave the digits of someone he works with. Which was smart because the paps took a picture of the note and that woman got phone calls from all over the world. So Affleck said the moral of the story is "flee the scene!" So if that ever happens to you, do what Ben Affleck says to do!
---
Ben Affleck gets sexy!
October 19th, 2012 under Ben Affleck/Jennifer Garner. [ Comments: none ]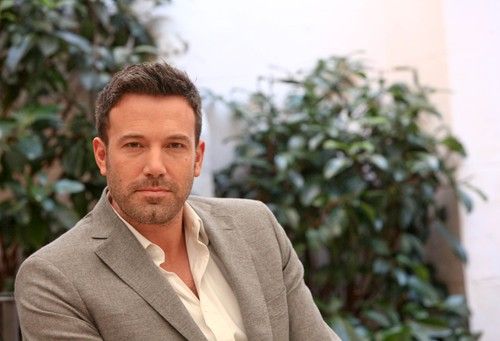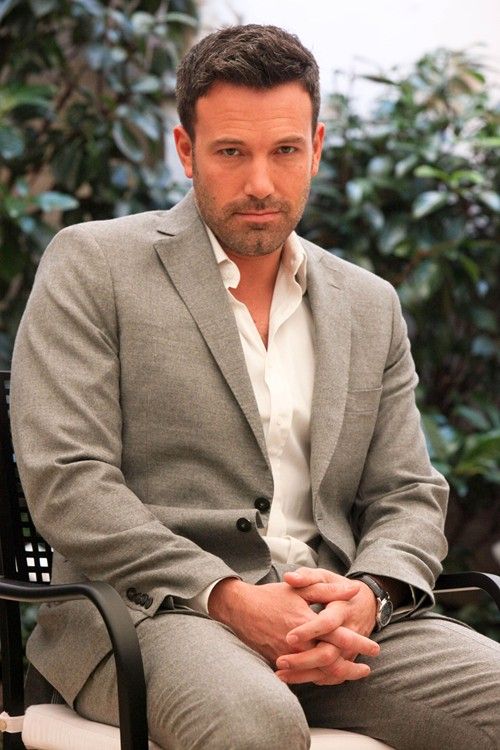 Fame Flynet
Ben Affleck is in Rome to promote his critically-acclaimed movie Argo and I learned something new about him. I don't know why I never realized this before but he is actually quite sexy. Look at the way he is making love to camera. Maybe it is the way the Italian paps (I know that accent can get me to do anything) are saying his name, but something just made him appear even hotter than normal. Doesn't he just turn you on in these pictures?
---
Butter is like butter!
October 6th, 2012 under Alicia Silverstone, Ben Affleck/Jennifer Garner, Modern Family. [ Comments: none ]

Butter is out now in theaters and on Video On Demand and just like melted butter on warm bagel, nothing is better to put a smile on your face!
Bob Pickler (Ty Burrell) has been the Butter Sculpting Champ for the last 15 years, but he has been asked to step down and let someone else have a chance at the title. His perfect uptight wife Laura (Jennifer Garner) is not willing to give up that title and will do anything to keep the honor in the family. So she decides that she will take up butter sculpting and keep the title in the family.
Bob meanwhile has found other interests to keep him busy now that his hobby is no longer slicing it for him. He has been going to the local strip club and he hooks up Brooke (Olivia Wilde) for a price. She wants $600 for their love, but Laura crashes in their rendezvous and she doesn't get paid. Brooke wants her money and will do anything to get it. Like get back at Laura and enter the Mastery of Butter contest.
But she isn't Laura's only competition. Young orphan Destiny (Yara Shahidi) has recently been taken in by The Emmets (Alicia Silverstone and Rod Corddry) and she has decided to take up Butter Sculpting. The little girl is quite amazing and she will give Laura a run for her money.
Laura won't have that, and she gets her ex-boyfriend, who owns the small town's car dealership, to help her out. Boyd Bolton (Hugh Jackman) is more than willing to help because Laura lets him ride her like one of his cars.
Now it is B-Day for Laura and Destiny and only one of them can be the winner. Who will it be? You will have to see this movie that is as smooth as butter to find out.
If you enjoyed Drop Dead Gorgeous, then you are going to adore this film. It is a fun look at the big going ons in a small town. It doesn't get much bigger butter in Iowa and Butter is larger than life.
So make a like butter on a hot pancake and run to see this movie in the theater or on On-Demand today. Seeing it is the syrup on top of your day!
Oh and men who are hesitant to see this movie, did I mention Olivia Wilde has a stripping scene in this movie and she makes out with Twilight's Ashley Green in a steamy sexy kissing scene? Yeah I think there will be a line as long as the one for the women's bathroom of men waiting to see this film now!
---
Ben Affleck says he doesn't have wonder sperm, but a wonder member!
October 5th, 2012 under Ben Affleck/Jennifer Garner. [ Comments: 2 ]

When Jennifer Garner was on Ellen, she told the daytime talk show host that her husband has wonder sperm. Well yesterday when Ben Affleck was on The Tonight Show, Jay Leno asked him about that. He said that his wife was misquoted because she actually meant to say the thing that delivers the sperm is the real wonder! I wonder if that is true? I can see it being true, but I am curious if he has the 8th wonder of the world between his legs.
---
Ben Affleck and Jennifer Garner are still in love!
September 13th, 2012 under Ben Affleck/Jennifer Garner. [ Comments: none ]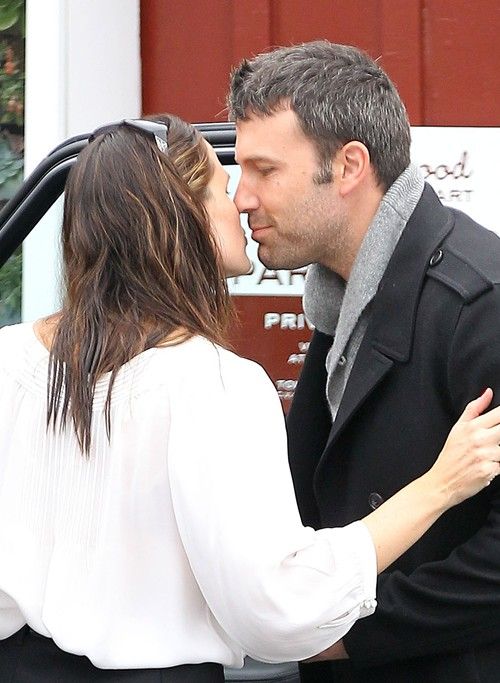 Fame Flynet
Even though Ben Affleck have been married for 7 years and have 3 kids together, they can still share a special moment from time to time. Seriously aren't they the cutest couple in Hollywood? And isn't just because of her dimples, it's because they just seem like a real couple who care about each other whether the cameras are on them or not.
---
Butter looks sweet
August 23rd, 2012 under Ben Affleck/Jennifer Garner. [ Comments: 1 ]

The new trailer is out for Butter and I can't wait to see this movie with Jennifer Garner and Olivia Wilde about a butter sculpting contest when it comes out on October 5th. This movie looks like it is in the same vein as Drop Dead Gorgeous as in that movie is so bad it's so beautiful. And we need more movies like that one.
Seriously this movie had me when Wilde is telling Garner she doesn't understand the big deal about her wanting to get pregnant because she does it like every month. Great line for what should be a great movie.
---
Ben Affleck reacts to Jimmy Kimmel's engagement
August 17th, 2012 under Ben Affleck/Jennifer Garner, Jimmy Kimmel. [ Comments: none ]




Jennifer Garner was on Jimmy Kimmel Live yesterday and she brought a present from her husband to the ABC late night host in honor of his engagement. It was a picture of the Oscar winner looking sad at a photo of the two men during their f*cking stage. It broke all of our hearts to see that sweet acknowledgment of their love.
But don't feel too bad for Affleck because Kimmel had a present for his former-lover. Something that is so special that it gave Garner a huge smile as she declared she could tell her husband "Look you ended up with the same person." Watch the interview to see why she said that because my description could not give that gift the justice it deserves.
---
David Letterman asks Jennifer Garner if Ben Affleck has Low T
August 15th, 2012 under Ben Affleck/Jennifer Garner, David Letterman. [ Comments: none ]

Jennifer Garner was The Late Show yesterday and David Letterman asked her about turning 40. She then told him that she loves it, but her husband Ben Affleck is having a hard time coming to grips that he is turning the Big 4-0 today. So then the CBS host asked him if it is because he suffers from Low T and she's like he is all testosterone. I wonder how Mrs Ben Affleck told her husband what Letterman asked her and how he reacted. I would love to see him bring his B-Town with him the next time he's on the show because you know he was insulted by the allegations. Although he shouldn't be because he still seems like he is all man to me.
---
The many poses of Ben Affleck!
July 24th, 2012 under Ben Affleck/Jennifer Garner, The Many Faces of. [ Comments: none ]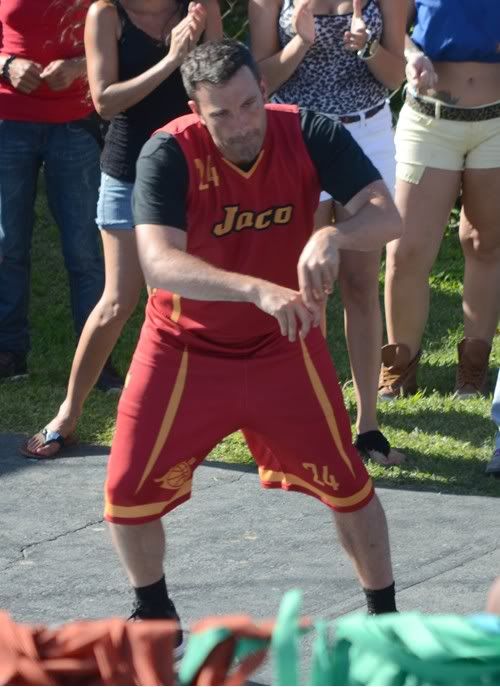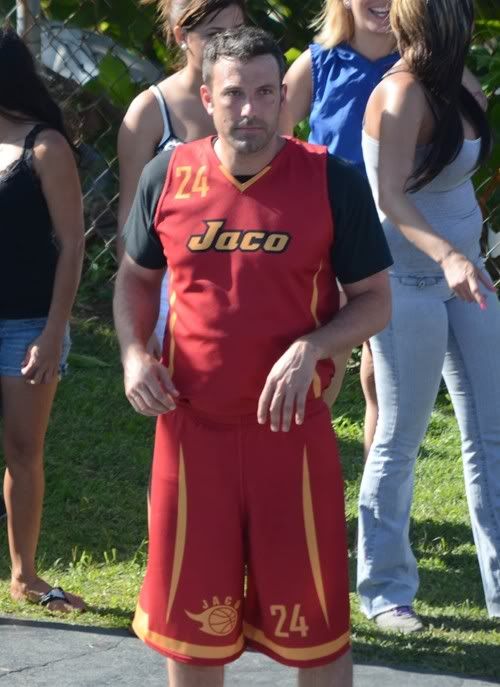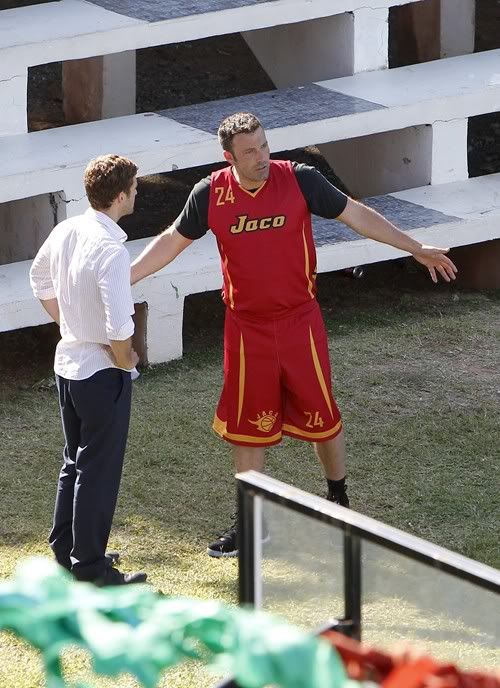 Fame Flynet
Ben Affleck is filming Runner Runner with Justin Timberlake and I want to know when he turned into Adam Sandler? Seriously what is up with those weird poses and that basketball uniform? I can't say anything positive about how the father of three looks, can you?
---