This kid literally got lock jaw!
March 18th, 2015 under Babies. [ Comments:

none

]

via AFV Kids
So there was a boy who thought it would be fun to see if he could get a combination lock around his braces. Once it was his in mouth, he locked it up. Only problem is he didn't have the combination. So until his mother was able to get it, he had to walk around with the disgusting taste of that metallic padlock. Good thing Megan had the combination because it takes weeks to get a replacement combination. Can you imagine if he was stuck like that for weeks?
Gotta love kids, they do the darnedest things and its so cute!
---
The faces that babies make in tunnels are the best!
January 30th, 2015 under Babies. [ Comments:

none

]

Did you know that babies change their expressions when they go through a tunnel? I didn't until AFV Kids posted this compilation of several little ones opening their eyes as wide as they can as they travel through the dark hole. The absolute terror in their awwwdorable faces is too cute for words.
I don't know why they find tunnels so terrifying because I always thought of it as going on a ride at an amusement park. But that is me.
Are you scared of tunnels?
---
Zooey Deschanel is having a new girl or a new boy!
January 13th, 2015 under Babies. [ Comments:

none

]

Zooey Deschanel is expecting her first child with Producer boyfriend, Jacob Pechenik. According to People, the new child is due sometime this summer, so chances are her pregnancy will not have to be written into her show, New Girl.
Zooey's older sister Emily, who is on Bones, is also pregnant with her second child. What are those Deschanel girls drinking over at Fox because whatever it is, it made them very fertile!
---
Meet the New Year's Day baby who's born the same day as her parents!
January 2nd, 2015 under Babies. [ Comments:

none

]

Autumn came into the world 9 days early on January 1st and the little girl shares the same birthday as her parents according to WXYZ. Raheem and Qiana Stover were also born on January 1st, 36 and 34 years ago respectively. Now the 3 of them are going to have to figure out how to share their birthdays. Either do it all on New Year's Day or one on New Year's Eve and one January 2nd. Thankfully, they have 364 days to decide that.
---
This video will raise your eyebrows!
June 25th, 2014 under Babies. [ Comments:

none

]

Little Leon is at the age where he is discovering the funny things that his body can do. His latest discovery is that he can make his eyebrows go up and change the look of his face. I don't know what is more awwwwdorable his face as he does it or his laugh? Together it is just too much cuteness for the internets and us to take!
---
Laura Linney is writing Love Letters to her brand new son!
January 17th, 2014 under Babies. [ Comments:

none

]

Back in 2010, Marie Claire found out 10 things things we didn't now about Laura Linney and today we can make that 11. That's because the actress revealed that she had a baby boy this Wednesday at the age of 49. No one knew the Emmy winning actress was even pregnant until People confirmed that she gave birth to her first child, Bennett Armistead Schauer, on Wednesday.
The extraordinary actress has been married to Marc Schauer since May 2009 and obviously this is their first child together.
I can't wait to see the pictures of Bennett and her because she is just so cute and motherhood will make her even cuter!
---
Stephen Amell's sperm shot an Arrow through his wife's egg!
June 6th, 2013 under Babies. [ Comments:

none

]

Stephen Amell and his wife Cassandra Jean (Remember her from America's Next Top Model? She quit the show when they cut her short and then wanted to cut it even shorter like Mia Farrow circa Rosemarie's Baby) are expecting their first baby together according to Just Jared. The couple got married on Christmas Day and then again on May 26th. Maybe the second time around was to celebrate their happy news.
BTW I wonder who will be shirtless more in a few months, the baby or the daddy?
---
Sara Rue's more than perfect baby girl!
February 15th, 2013 under Babies. [ Comments:

none

]

(photo from ABC.com)


Sara Rue has played pregnant on Two and a Half Men, Rules of Engagement and her new show Malibu Country, the latter because she was actually going to have a baby. Well now in her real life she playing a mom because she announced on Twitter she had her baby. She said "Had the best Valentines day w/my husband & our new baby daughter Talulah! She was born a few days ago & we couldn't be more in love w/her." She didn't say exactly when she was born because I am sure she is saving some of the details for whatever magazine she sells that information to like most celebs do.
This is Sara's first child with her husband Kevin Price!
BTW you can watch her when she was pregnant on Malibu Country tonight on ABC at 8:30p!
---
Even babies are doing Gangnam style!
January 22nd, 2013 under Babies. [ Comments:

none

]

Just when you thought we had heard the last of Psy's Gangnam Style, Ryan Seacrest had to share this absolutely awwwdorable video of a 7 month old baby doing the dance. As much as I wanted not to watch it, I couldn't help but press play and I am glad I did because it brought such a huge smile to my face. Seriously op op to the cutie for making me like the song that will be a thing of the past by your first birthday!
---
Claire Danes so called life as a mom
December 19th, 2012 under Babies. [ Comments:

none

]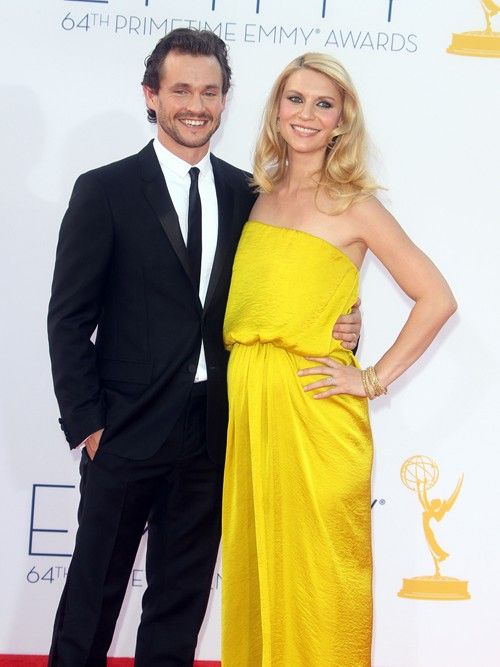 (photo from Fame Flynet)


Claire Danes has had quite year thanks to Homeland, but it is nothing like what the project her husband, Hugh Dancy, and her worked on in 2012. That's because the my so called life actress gave birth to their son Cyrus Michael Christopher Dancy on Monday according to People. The magazine did not say how she came up with the name for him, but I am going to say it is because the couples' song is Achy Breaky Heart and they named him after their favorite singer Billy Ray Cyrus.
---