Pete Doherty admits the obvious
June 6th, 2014 under Pete Doherty/Kate Moss. [ Comments:

none

]

Pete Doherty is more known for his drug use than his music and he finally admits that they have f*cked up his life. He told the Daily Star, "I would like to get rid of the damn drugs." Then he added, "It's no longer fun. On the contrary, it's just s*** and kills all my creativity. But it's difficult to stop." Then he shared his biggest revelation, "My past life is a f*****g mess, a real mess."
Does he regret his past? No, but he would like to change it. Like the relationship that he has with his family because he has "caused them so much crap." That they have.
Doherty is the poster child for why not to do drugs. So that is the only good thing that doing all of those drugs has done for him and us.
---
Maybe the rapture is coming because Pete Doherty is going to jail
May 20th, 2011 under Pete Doherty/Kate Moss. [ Comments:

none

]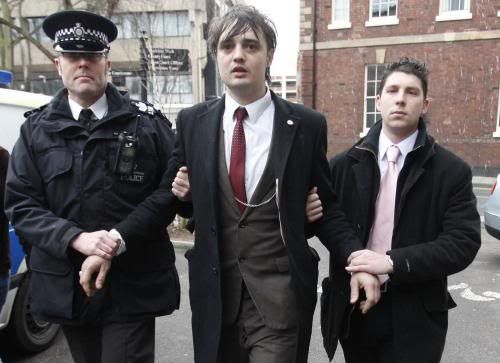 (photo from Fame Pictures)


Pete Doherty who has been arrested time and time again for drug possession is finally doing some time. According to the BBC the singer has been sentenced to six months in jail for cocaine possession.
Up until this news I thought the tomorrow's predicted rapture was bullsh!t, but after hearing that he is finally going to jail I am starting to think there might be something to it. Rut-roh.
---
BTWF interviews: Pete Doherty for MTV
October 14th, 2009 under Before They Were Famous, Pete Doherty/Kate Moss. [ Comments:

1

]

Before Pete Doherty was a musician known mostly for his drug use, he was telling MTV what a big fan of Oasis he was. The 18 year old looks good when he was clean and sober back in 1997.
xoxo Agent Bedhead!!!
---
Kissing kitty kuteness!!!
May 31st, 2009 under Pete Doherty/Kate Moss. [ Comments:

none

]

Never in a million years did I think I would ever be able to post anything positive about Pete Doherty and his kittens, but seriously who freaking awwwdorable was that video of his kitties kissing like that? Leave to Pete Doherty to have cats that French Kiss. I have never seen that before, have you?
BTW I must warn you, stop watching the video when Pete comes in.
---
Pete Doherty's cat haunts him!!!
March 18th, 2009 under Pete Doherty/Kate Moss. [ Comments:

2

]
Pete Doherty's cat haunted him from beyond the watery grave he put the cat in according to
NME
.
"The cat got run over so I thought I'd give it a burial at sea – well, the pond," he said. "But it didn't sink, it floated and then froze over. So there was this dead cat under the ice looking up at me. It was terrible"
I am not sure if the cat that died was the one that he is rumored to have made smoke crack, but either way I think that it is justice that he late cat haunted him from the grave. Seriously why would you bury a cat in a pond? It is another Pete Doherty mystery, you know like the other big one…how is he still alive with the drugs he has done?
---
Pete Doherty didn't die even for a minute
September 5th, 2008 under Pete Doherty/Kate Moss. [ Comments:

none

]
\
Rumors circulated earlier this week that Pete Deherty died from a drug overdose before he did a gig and then he was revived by EMTs and went on to do the show. Well Pete is setting the record straight with
MTV UK
.
On the claim by the media that Pete nearly died earlier in the week due to an overdose…

Pete Doherty: 'I know that was absolute rubbish, I was in Austria, I mean between me and you like, it would've been lovely to have enough stuff but there was nothing about, to be honest it was a really clean week and it was complete rubbish.'
Better luck next rumor on his demise.
---
Bid on Kate Moss' lost hair extension
June 27th, 2008 under Auctions, Pete Doherty/Kate Moss. [ Comments:

1

]
So remember two weeks ago when Kate Moss
was running from the paparazzi in Berlin and her hair extension fell out on to the red carpet? Well the pap who picked it up is auctioning it off on
eBay
for a German drug charity Keine Macht den Drogen (No Power to Drugs) according to
AFP.
"I hope Kate doesn't mind. I did not have time to ask her because she was in quite a hurry," Farr told the newspaper.
I don't know about you, but I wouldn't want to own someone else's hair real or fake. I mean at least Kate Moss' hair extension is better than Britney Spears' real hair that she shaved off that fateful night almost two years ago, but still ewwww.
---
Pete Doherty gets clean
June 17th, 2008 under Pete Doherty/Kate Moss. [ Comments:

none

]

Why is it even sitting in a bathtub using soap and water Pete Doherty still looks so dirty?
Poor kitty, poor poor kitty. Why is he still allowed to have his animals?
---
Pete Doherty's cat is out of its own misery
May 28th, 2008 under Pete Doherty/Kate Moss. [ Comments:

3

]
One of Pete Doherty's cat passed away yesterday according to
NME
. He was late for a gig (he still gets them?) and told the crowd.
"Sorry I'm late. But considering I've had to bury one of my cats at the roadside I've done pretty well to be here."

Before Doherty arrived at the venue an announcement had been made that the singer was "en route" and that "his kittens had gone crazy". When he did arrive, the Babyshambles man was carrying one of his cats in a pet transporter. The feline watched the show from the back of the stage.
What does that mean that he had to bury his cat at the roadside? I don't want to know what killed that poor cat. Since in the past his cats have tested positive for drugs and he admitted that he got clean after a raising a shovel to one of his cats and was about to smush it.
While I never would wish death on any animal, I think in this case it was almost humane that it is no longer with him and us.
---
Should Pete Doherty and Amy Winehouse be around animals?
May 16th, 2008 under Amy Winehouse, Pete Doherty/Kate Moss. [ Comments:

none

]

Pete Doherty filmed Amy Winehouse around animals. I have no idea what they were saying or doing, but that video horrified me. Seriously why is he able to keep or be around animals after he confessed to almost killing his cat with a shove and giving drugs to another.
This video is more proof that they are the Sid and Nancy for the new millennium, let's hope they have a better ending.
UPDATE: Here is the two of them playing with the baby mice with their dirty fingers. G-d knows what is on their fingers and when was the last time they were watched. I doubt those babies will survive that and them.

---