Cameron Diaz and Leslie Mann chest to chest
May 8th, 2013 under Cameron Diaz. [ Comments: none ]

Fame Flynet
Cameron Diaz and Leslie Mann were seen looking pissed off at each other standing chest to chest yesterday and I wonder if the two actresses have something to tell. Sadly for you boys who thought you were able to cross a fantasy off your list, it was just the two of them filming a scene for their movie The Other Woman. Oh well Judd Apatow will have to dream up another fantasy for his wife, which I am sure he is doing as we speak!
---
Cameron Diaz and Jimmy Fallon play Silent but Deadly
May 9th, 2012 under Cameron Diaz, Jimmy Fallon. [ Comments: none ]

Jimmy Fallon discovered a new app that makes farting noises and he challenged Cameron Diaz to a game of Silent but Deadly. The object of the game is to hold a straight face while they listen to a fake fart. Let's just say it is a lot harder than you think, and it is very funny to watch them try. So sit back and enjoy because farts are always a laugh out loud riot.
---
BTWF interviews: Cameron Diaz on Other Voices
June 22nd, 2011 under Before They Were Famous, Cameron Diaz, Jimmy Fallon. [ Comments: 1 ]

via Late Night with Jimmy Fallon
Before Cameron Diaz was an ogre living in a beautiful human princess' body, she was an actress doing an interview with a different voice on Other Voices with Jimmy Fallon. She looks the same now as she did when she was 22 in that 1994 interview. Neither her nor Jimmy Fallon, who was 20 at the time, look any different than they did during their first chat together. It is absolutely incredible.
---
Cameron Diaz has David Letterman eating out of her hand
June 21st, 2011 under Cameron Diaz, David Letterman. [ Comments: none ]

Cameron Diaz was on The Late Show with David Letterman and he asked her about that infamous moment between and her and her boyfriend A-Rod during the Super Bowl. You know when she was caught feeding him popcorn? Well the gap toothed host desperately wanted to recreate that special moment and she obliged him. But it looks like the Bad Teacher wanted it for herself!!!
---
A-Rod's cred destroyed by one Super Bowl second!!!
February 7th, 2011 under Cameron Diaz. [ Comments: none ]

A-Rod might be one of the best baseball players of today, but all of his hard work earning that title was ruined during one second at the Super Bowl. The Yankees' slugger and his girlfriend Cameron Diaz went to the biggest football game of the year and they got caught by the cameras as she fed him popcorn. Lucky for him spring training is a few weeks away because if wasn't, you know his teammates would be ripping him a new one. Lucky for the Yankees, the NY papers will be harassing him about it until they can.
---
Cameron Diaz wear something in honor of Tom Cruise…shorts!
June 22nd, 2010 under Cameron Diaz, Tom Cruise/Katie Holmes/Suri. [ Comments: none ]

WireImage
Tom Cruise and Cameron Diaz were on Good Morning America today to promote their new movie Knight and Days and I had to wonder if in his honor she wore shorts? Seriously I think the heels on his shoes are as high as her shorts are short. What is up with that?
BTW I love the way she is looking at him in the last picture, can't say I blame her.
---
Can Tom Cruise bend it like Beckham?
June 11th, 2010 under Cameron Diaz, Tom Cruise/Katie Holmes/Suri. [ Comments: 1 ]

Tom Cruise and David Beckham are such good friends that Becks even named his youngest son after him. So does their friendship mean that Cruise can bend it like Beckham. Looking at him on the Knight and Day set with Cameron Diaz, it looks like not only did he pick up his moves but so did she. There is only problem, the ball doesn't haven't a shadow so they are just acting like they are playing with a real ball. Let's hope they can fake it just as good when their movie comes out on June 23rd.
---
Cameron Diaz does to Tom Cruise, what we all want to!!!
May 13th, 2010 under Cameron Diaz, Tom Cruise/Katie Holmes/Suri. [ Comments: 2 ]

Tom Cruise was teaching Cameron Diaz how to do the scene where she high kicks him in the chest when he suddenly got distracted. What happens next has me watching this video non-stop and you will be feeling the same way as I do!!!
I think there is a subliminal message in that video, because now I want to see Knight and Day when it comes out on June 25th. Oh sh!t did I just say that, now I feel like I got kicked in the chest.
---
Tom Cruise running in another movie trailer
March 30th, 2010 under Cameron Diaz, Tom Cruise/Katie Holmes/Suri. [ Comments: none ]

There are two things that are always reliable with Tom Cruise and his movies, first he will play the same character in every one of them and second he will be seen running in the trailer to promote it. Yesterday during Dancing with the Stars they debuted the trailer for his upcoming movie with Cameron Diaz, Knight and Day. After watching it all I have to say is too bad the sun rose on this movie and hopefully the sun will set very quickly after it comes out because it looks like a major dud! Even though he has had success with the Mission Impossible franchise, I still don't see him as an action hero. If I needed him to save my life, I would look around for someone else before I looked at him to do it.
---
Cameron Diaz is working it for a car wash!
March 29th, 2010 under Cameron Diaz. [ Comments: none ]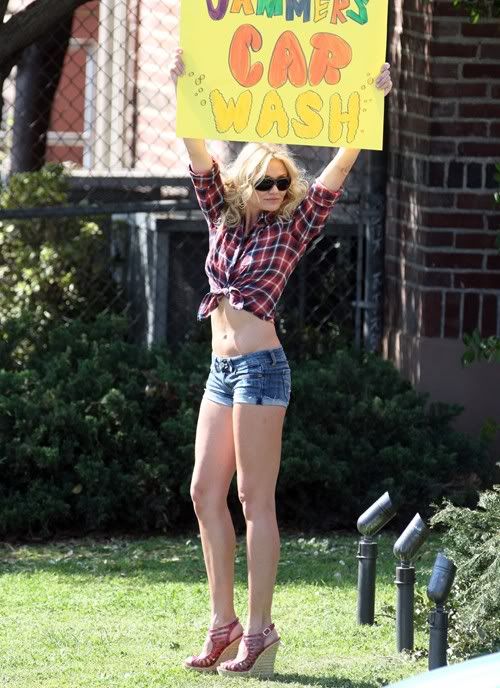 Fame Pictures
Don't worry Cameron Diaz's career hasn't gotten to the point that she is selling it for a car wash, she is actually shooting a scene for her new movie Bad Teacher. And you know there will be a lot of boys wishing she was their Bad Teacher after seeing these pictures.
BTW can you believe she is 37 and still has her figure like that?
---