Jon Bon Jovi calls David Letterman out on a bad joke!
December 21st, 2012 under Bon Jovi, David Letterman. [ Comments: 1 ]

Jon Bon Jovi was a guest on The Late Show yesterday and David Letterman asked him about his friendship with Bruce Springsteen. The man with the best a$$ in Rock'n'Roll said that he played with The Boss for the first time back when he was only 16 years old. So the CBS late night host asked if Jon could ever be in the E Street Band and the singer said "I couldn't have been in the sons of the E Street Band." Then Letterman said, "I couldn't be in the E Street Band. I lived on F Street." That's when Bon Jovi made that drum sound that every comedian knows when he bombs at a joke. So I guess you can say that joke got an F Street from Jon Bon Jovi and I am getting an F Street from all of you.
BTW I don't know why, but in this interview I thought that Jon Bon Jovi's speaking voice was so different than his singing one. It was so quiet as compared to the boisterous one you hear when you see him live in concert and I stare at his beautiful butt!
---
Larry King proves he can rock!
December 6th, 2012 under Bon Jovi, Craig Ferguson. [ Comments: none ]

Richie Sambora is the house band this week on The Late Late Show and yesterday Craig Ferguson surprised him with a guest singer to collaborate with on the show's theme song. That mystery person is the one and only Larry King and he proved to us that not only is he the King of Media, he is also the King of Rock! Who knew he could sing like that? So sit back and watch as the television host blows you away with his singing ability!
---
Craig Ferguson gets a house band and his name is Richie Sambora!
November 14th, 2012 under Bon Jovi, Craig Ferguson. [ Comments: none ]

For years Craig Ferguson has complained that The Late Late Show doesn't have a house band like all the other late night talk shows, but on December 3rd that will no longer be the case. Richie Sambora and his band will be playing on the CBS talk show for a whole week. I am so excited for this even though Bon Jovi's guitarist refused to do it "naked, playing a tiny little harp." Maybe next time!
---
The many faces of Richie Sambora!
September 27th, 2012 under Bon Jovi. [ Comments: 1 ]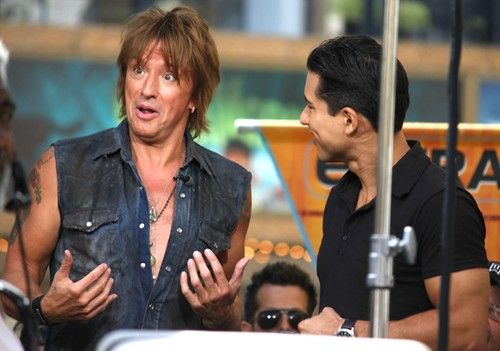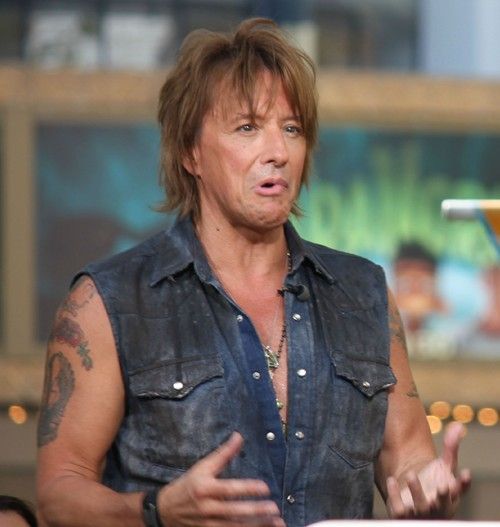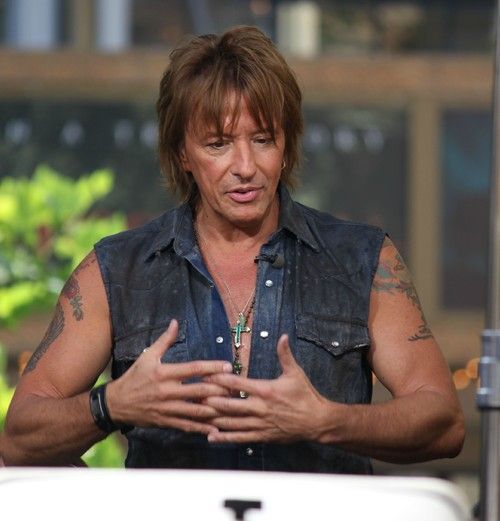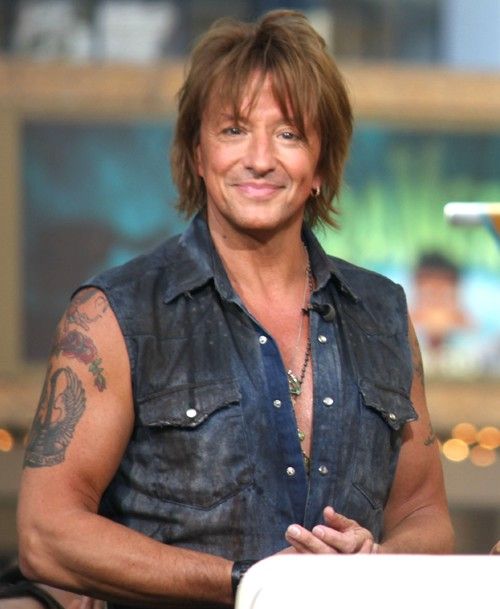 Fame Flynet
Richie Sambora was on Extra to talk about his new album Aftermath of the Lowdown and by the look of his face he is very passionate about it. Maybe it's because Jon Bon Jovi is the lead man, but I never realized how expressive the guitarist really is. I like getting to know this side of him along with his voice on his new rockin' CD.
---
Richie Sambora is starting to look like Jon Bon Jovi
August 13th, 2012 under Bon Jovi. [ Comments: none ]

Richie Sambora and Jon Bon Jovi have been jamming together for almost 30 years and now the rockers are starting to look more like brothers than bandmates thanks to some hair dye. Bon Jovi's guitarist Tweeted the news "Hey so ya got me.. I'm blonde. Just tryin somethin new for a bit. I don't have to look at me u do…don't feel any different…" before revealing his new look.
You know for a while I have been thinking that they have been more and more alike and now with the lighter roots, I think they almost look like twins. I can't think of any other band where two of the members started to resemble each other, but then again the Jersey group is not like any other band.
---
Jon Bon Jovi is slippery when wet
March 30th, 2012 under Bon Jovi. [ Comments: none ]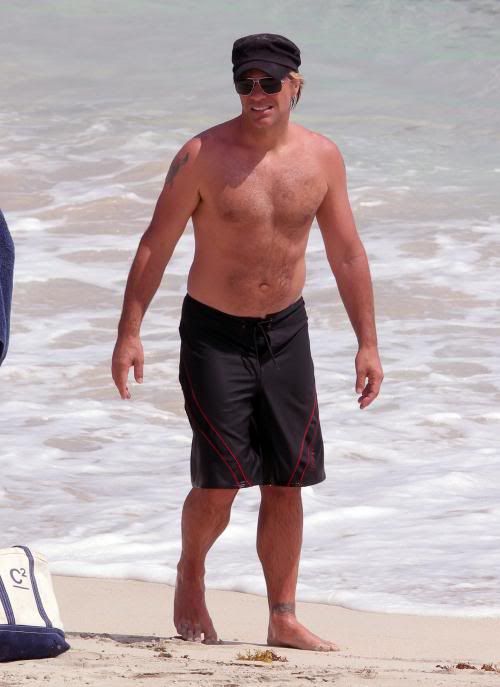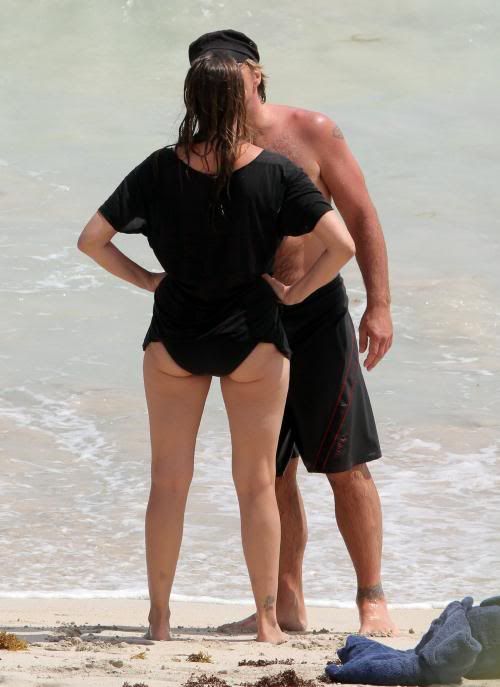 Fame Flynet Pictures
Jon Bon Jovi is in St Barths on vacation and the rocker has a rockin' body. Seriously doesn't he shoot your body temp up to 7800° Fahrenheit in those trunks? I just want to lay down in a Bed of Roses with him. Especially because he butt looks so good in that bathing suit.
---
Jon Bon Jovi isn't sleeping because he isn't dead!
December 19th, 2011 under Bon Jovi, Not Dead. [ Comments: none ]

Someone Wanted Jon Bon Jovi Dead, but I am happy to report he is very much Alive! So to whoever thought that they could kill him with a Shot Through the Heart online, I can tell you that your Bad Medicine didn't work. Thankfully he hasn't gone out in a Blaze of Glory as you can see in the picture above that his record label UMG posted on Twitter today after the rumors surfaced.
BTW as a New Yorker if heaven is New Jersey, then what must hell be like?
Finally if you don't know the Bon Jovi song I'll Sleep When I'm Dead, listen to it below.
---
The many faces of Jon Bon Jovi
March 15th, 2011 under Bon Jovi, The Many Faces of. [ Comments: none ]

WireImage
Jon Bon Jovi is filming scenes for the upcoming Garry Marshall movie New Year's Eve and his face really got into the action. He looks as happy to wear that red scarf as I am to seeing him wear it. Even though that red scarf is not my style, I still think he looks so sexy in those pictures!
BTW I wonder what he is playing in the movie???
---
I want to be Jon Bon Jovi's left hand?
March 3rd, 2011 under Bon Jovi. [ Comments: none ]

WireImage
Jon Bon Jovi turned 49 yesterday and he spent his birthday night playing to a sold out crowd in Philadelphia. When it comes to who got the biggest birthday gift, I say it was me finding this picture of him touching his muscle of love! Seriously I so want to be his left hand after looking at that picture. Is that wrong?
---
Jon Bon Jovi takes a licking and keeps on ticking!
July 12th, 2010 under Bon Jovi. [ Comments: none ]

Jon Bon Jovi was playing the Meadowlands on Friday when he sustained a torn calf muscle towards the end of the show; but did he let that stop him…no way. He was more than Livin' on a Prayer, because he Wanted to finish that show Dead or Alive. So I guess instead of the doctor giving him some Bad Medicine, he gave him some really good sh!t because he went on and did the encore. In fact he is not going take it by laying in a Bed of Roses, but instead Keep The Faith ticket holders because he is going on with the tour and played Saratoga Springs yesterday! I guess when Bon Jovi sang "I'll Sleep When I'm Dead", he meant it!
BTW if Bon Jovi is going to be playing a stadium near you and there are tickets still available, you should go! I saw them here in LA thanks to my friend Denise and they f*cking rocked! Jon Bon Jovi gets a Jazzercise/aerobics workout during each show that I can't believe he is going on with the show after tearing his calf muscle like that! My hat is off the man with the best a$$ in Rock'n'Roll for not letting an injury disappoint his fans. Hopefully he get better soon and not be in that much pain during each performance!!!
---