Lily Allen goes short
November 14th, 2008 under Lily Allen. [ Comments: 4 ]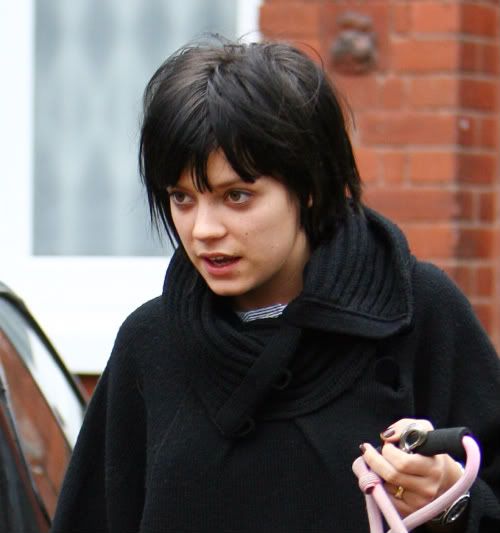 Lily Allen debuted her new short haircut and I can't decide if I like it or not.
---
Lily Allen on her feud with Elton John
September 5th, 2008 under Lily Allen. [ Comments: none ]




I always love Lily Allen blogs on MySpace because she takes the time to correct some of the stupid rumors about her. And seriously saying there was a feud between the two was so lame in the first place.
---
Lily Allen vs Elton John
September 3rd, 2008 under Elton John, Lily Allen. [ Comments: 3 ]

Last night Lily Allen and Elton John had it out while presenting at the GQ awards, and lots of sources were saying that there was a serious rift between the two during that presentation. But after watching it, you can tell it was all scripted. How lame.
On another note, Elton looked way out if it.
---
Lily Allen does a Amy Winehouse
August 19th, 2008 under Lily Allen. [ Comments: 2 ]
Lily Allen went out yesterday and when a fan heckled her, she did an Amy Winehouse and tried to punch them. Unlike Amy Winehouse, she missed.
I will post her blog about the incident when she sobers up because she know she will post one.
---
Another Lily Allen boob slip
August 7th, 2008 under Celeb Oops, Lily Allen. [ Comments: 19 ]

Want to see Lily Allen's latest boob slip then click here!
---
Lily Allen and Lindsay Lohan?
July 1st, 2008 under Lily Allen, Lindsay Lohan. [ Comments: 3 ]
Lily Allen and Lindsay Lohan are rumored to be working on a duet for her second album according to
OK!
. The duet between Samantha Ronson's BFF will be called Wherever You Go. Forget the song, I can't wait for the music video.
---
Caption Lily Allen!
June 11th, 2008 under Caption the Celeb, Lily Allen. [ Comments: 3 ]
Eat your hearts out and tell us what can you say about this picture that
Lily Allen
posted on her MySpace.
---
Lily Allen hangs with Lindsay Lohan
June 10th, 2008 under Lily Allen, Lindsay Lohan. [ Comments: 3 ]

Pacific Coast News Online
This is scary Lily Allen has only been in LA less than two days and she is already hanging with Lindsay Lohan and Samantha Ronson. I wonder how this pairing happened.
BTW if Lily Allen thought that hanging with with Rohan would make her more paparazzi friendly, see what happened when she left Il Sole in front of them. No one called out her name, even with her hot pink hair. Ouch. That has to suck.

---
Lily Allen is staying in the room John Belushi died in.
June 9th, 2008 under Lily Allen. [ Comments: 1 ]
Now I've never stayed in the room that I'm in before but rumour has it John Belushi died in here, I'm going to try and channel his Blues Brothers don- ness and get it on my album, maybe I'll write a song from his viewpoint, about the last few hours of his life, rumour also has it the last people to visit him here were Robin (not to be confused with Robbie) Williams and Robert DeNiro. Spooky Huh? Here are some pics of the room
This is the sofa, I'm sure its been changed now, but this is probably where john belushi died
According to her MySpace Lily Allen is in LA to work on her new album and she says that she is staying in the same room that John Belushi died in. I don't know about you, but that would freak me out to stay in the room. But then again before I moved to LA, I stayed in the same hotel where Divine and Janis Joplin died at, which was actually not that bad and reasonable. Hey Lily if you want to know what hotel that is, let me know. In the meantime Lily don't let John Belushi's ghost scare you too much!
---
Lily Allen is seeing pink elephants!
June 4th, 2008 under Lily Allen. [ Comments: 2 ]
Once again Lily Allen got so drunk she had to be carried out, poor Lily.
BTW I had to use the Disney reference for being drunk and Seeing Pink Elephants after realizing her dress is full of beheaded Bambi's. Poor Bambi…the ones on the dress not Lilly Allen.
UPDATE: Lily Allen just blogged about these pictures on MySpace!!!
Oh dear

Last time i wrote here , I was defending my honor and dignity , explaining my innocence and also outrage at the press for insinuating my behaviour was embarrassing. This time i'm putting my hands up , i got very drunk last night , too drunk. It's not cool getting that drunk , i feel awful and I have to thank my little brother alf for getting me home safely.
Kids , drink responsibly or you'll end up looking like this , not pretty ! Was quite fun though , from what i can remember. need fry up now .
Her response made me laugh! I respect for fessing up!!! Lily go down some aspirin and grease and blog more about it later!
---