Katie Price is loving her natural boobs!
March 4th, 2015 under Jordan/Peter Andre/Harvey. [ Comments:

none

]

via YouGossip
Katie Price made a name for herself as Jordan because of her oversized fake boobs, but that has all changed. The reality star reportedly suffered complications from a breast reduction that caused her to lose her implants and now she is back with what Gd gave her.
So how does she feel about them? She said, "Love having my natural boobs love how my body feels… Finally going back to natural"
How small is she now? She is back down to about a 32B, which is about the average woman's size. You know what, it's the best I've seen her look since we all got to know her. What do you think of them?
---
Katie Price claims her husband is having an affair with her best friend
May 7th, 2014 under Jordan/Peter Andre/Harvey. [ Comments:

none

]

Katie Price, who is 6 months pregnant with her 5th child, announced on Twitter she is divorcing her third husband after just 15 months of marriage. The two have a son, Jett, who was born 8 weeks premature in August.
Here's what she wrote on Twitter:
Sorry to say me and kieran are divorcing him and my best friend jane pountney bee having a full blown sexual affair for 7 months
Then an hour later added:
Jane pountney is 50 next year cloned into me with my help she is a whore , home wrecker slut
Kieran is a disgusting human being doing this after I've just had a baby and still doing it till I caught them
No human being deserves this especially being 6 months pregnant
Worse pain in the world
No human deserves that. To lose your husband and your best friend like that in one minute has got to be the worst. You have no one to turn to in that situation because you normally go to the other one to get through the pain of losing the other one. But when you lose both, you have to feel all alone.
It's a shame that she has no luck with men.
---
Are Katie Price's lower lips showing?
July 4th, 2013 under Jordan/Peter Andre/Harvey. [ Comments:

none

]

Fame Flynet
Katie Price attended the launch of her new perfume Kissable dressed like that. I am not sure if those lips are fake or if that is the world's largest camel toe showing through? I am thinking the latter!
---
Does Jordan have something to tell us?
February 19th, 2012 under Do they have something to tell us?, Jordan/Peter Andre/Harvey. [ Comments:

none

]

Jordan aka Katie Price Tweeted the above picture and said, "Omg @leandro__penna and @abbi1985 and myself have pigged out on junk food tonight hahahaha lol" Is it just me or does it look like her belly was caused by more than just junk food? I have to wonder if Leandro Penna and her have something to tell us? Like her fourth baby is on the way?
---
Katie Price uses a Fluffer?
November 2nd, 2011 under Jordan/Peter Andre/Harvey. [ Comments:

none

]

WireImage
Now that dressing slutty for Halloween is over, Katie Price is dressing slutty for Christmas. In order to keep fur on her outfit fluffy, she brought along a Fluffer. What I want to know is if that poor guy not only has to fluff her clothes, but do what a Fluffer does in P0rn. If he does, than I feel bad for that poor guy and he is getting paid what he is worth.
---
Katie Price looks cheap
February 28th, 2011 under Jordan/Peter Andre/Harvey. [ Comments:

none

]

WireImage
For some reason Elton John invited Katie Price to his annual Oscar party and the twice divorced tabloid queen looked awful in that short dress showing off her fake boobs. She looked more like she was going the Adult Video News Awards than to a post-Academy Awards party.
---
Peter Andre wants his little Princess to become a nun
January 25th, 2011 under Jordan/Peter Andre/Harvey. [ Comments:

none

]

(photo from WireImage)


Peter Andre was talking about how his three year old daughter likes to do chores and he is hoping that will prepare Princess Tiaamii for her future. According to Bang Showbiz he said, "Princess is so cute at the moment and has turned into a total domestic goddess. She is always sweeping the floor and helping me tidy up the house. She absolutely loves it so I'm not going to argue with that and, besides, it's good training for when she becomes a nun when she's older. I'm sure nuns have to do their fair share of domestic duties round the nunnery!" I think her face in that picture says it all.
---
This could be a scary pairing
July 16th, 2010 under Jordan/Peter Andre/Harvey. [ Comments:

none

]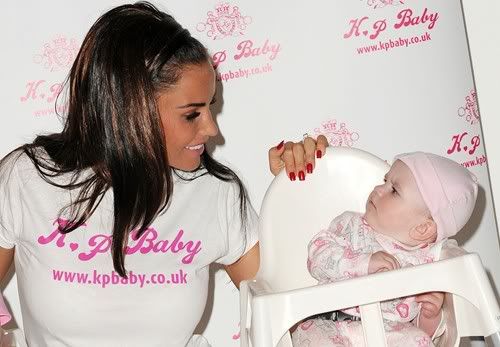 (photo from Bauer-Griffin Online)


Katie Price aka Jordan Tweeted this message morning, "@heidimontag lets get in touch! there's lots we can do together xxxxx". As soon as I saw that Tweet, I was like noooooooooo! Could you imagine what they could do together? They can do a PSA for getting way too much bad plastic surgery at a young age. If that doesn't work, how about people that are famous for nothing? Still not tempted, how about reality stars who think they can sing but can't? Maybe they can compare note from when they were on I'm A Celebrity… and asked the producers to Get Me Out of Here. And finally they can talk about falling in love TV ruined their marriages.
Wait did I say this was a scary pairing? Maybe I will take that back. As of now The Hills star has not responded her, but now I am hoping that she will.
---
Caption Peter Andre!
April 4th, 2010 under Caption the Celeb, Jordan/Peter Andre/Harvey. [ Comments:

none

]

WireImage
This picture of Peter Andre has Caption Me written all over it, so go ahead and do it!

Winner of the last Caption The Celeb:

fcooper wrote for Caption Jennifer Aniston and Gerard Butler!…"gerry needed to wipe his boogers somewhere…her crack was the appropriate and most discrete place to do so!"
---
Jordan and Alex Reid enter the marriage ring
February 3rd, 2010 under Jordan/Peter Andre/Harvey. [ Comments:

1

]

(photo from WireImage)


Jordan and Alex Reid had a quickie marriage in Las Vegas yesterday. Katie Price who dumped Alex when she quit I'm A Celebrity, was quick to walk down the aisle with him when he won Celebrity Big Brother last week. Unlike her wedding to Peter Andre that was huge event this one had no fan fare nor was it paparazzi filled, but it was filmed. But according to the Daily Mail we might not see the two say, "I do".
A statement released by their agent confirmed: 'Katie and Alex are delighted to announce that they got married in a private, simple ceremony at 4pm (PST) on February 2nd in Las Vegas.'
The newlyweds said in the statement: 'We are very much in love and look forward to the future together. We can't wait to get back and celebrate our marriage with our friends and family who we know fully support our wishes.'
The spokesman added: 'Their decision to marry has not been made with any pre-conceived commercial plan or media deal in place, and their reason for getting married is purely down to their love for each other.'
But an insider told MailOnline: 'Her ITV2 camera crew were with her and could well have filmed the wedding.
'But Katie is not sure yet whether she will allow the footage to be aired.
'She has not signed any magazine deal for the wedding photographs but they are likely to do an interview about it when they get back.'
Please we are talking about Jordan here she will sell the footage to the highest bidder, but since Peter and her have split that bid won't be as high as it was a year ago.On that note no word from Peter how he feels about his ex being a Mrs again, but you he will probably be civil about it.
Finally how long do you think it will take Jordan and Alex to turn their quickie marriage into a quickie divorce?
UPDATE: According to OK! Peter Ander spoke to Radio 1 about his ex's nuptials after the DJ wouldn't stop asking him about it.
He said: "I didn't know anything about it. I haven't spoke to her. I do speak to her, you have to speak to each other because you have kids and you have to keep things up for them."
Peter was being interviewed on the Radio 1 breakfast show this morning and although he was reluctant to discuss Katie's marriage outspoken host Chris Moyles quizzed him about it.
At one point, Chris said to Peter: "I think the marriage is madness. In the circus that is Katie Price's life as long as the kids are alright that's all you should care about."
Peter replied: "That's exactly what I think. Bottom line is I love those kids, they're my entire life, maybe I'm over-protective of them. But as long as they're looked after that's all I care about."
At least he is putting the kids' interests before his own.
---