Tara Reid is as happy as a pig in mud!
May 30th, 2014 under Tara Reid. [ Comments:

none

]

Tara Reid Tweeted this photo of her boyfriend and her in the middle of a mud bath at the Dead Sea, and they look as happy as pigs. Which makes sense!
Actually seeing how happy they look, makes me want to get one so bad!
---
Tara Reid has already left her husband!
August 19th, 2011 under Tara Reid. [ Comments:

none

]

WireImage
On Saturday Tara Reid got engaged and then married Zack Kehayov, and yesterday she left him. Don't get devastated they haven't split…just yet, she just left him temporarily to do Celebrity Big Brother in The UK. Hopefully their marriage will be able to survive this time apart. You know because she will be away from him longer than they have been married.
BTW VH1 can you please bring back The Surreal Life because I miss the American version of the show.
---
Tara Reid got married and so did three others in the last 2 days!
August 13th, 2011 under Tara Reid. [ Comments:

none

]

(photo from WireImage)


Earlier today Tara Reid Tweeted "I just got engaged!" and then two hours later she said "Greece married!" Since I didn't know if she had one of the shortest engagements in Hollywood history I didn't Tweet that she was married woman. That was until she Tweeted, "Love in Greece…I am now a wife:)" 8 hours after she said she was engaged. No other details were given and I am assuming she married Michael Lillelund who she was dating around the new year. Congrats to the American Pie actress, live up like a Van Wilder party!
Oh and just think her marriage has already lasted longer than her engagement, how many other Hollywood couples can say that?
Finally they are not the only couple who got married this weekend. Joy Behar married her boyfriend of 29 years on Thursday according to Us Weekly. Then today her View co-host Sherri Shepherd got married according to Life & Style. And lastly yesterday Brooke Burke and David Charvet finally got married after being engaged for 5 years and having two kids her rep confirmed to People. So of the four couples who do you think will be the first one divorced, who will have the first baby and finally which one will last forever?

UPDATE: Tara Reid did not marry Michael Lillelund, but instead she Tweeted "His name is zack kehayov" She also showed off her engagement and wedding rings that she got on Saturday!
UPDATE 2: Life & Style has the first picture of Tara Reid and her DC business man husband Zach Kehayov who she has been only been dating for a short time. They look so happy!!!
---
Tara Reid's nipple is blinding
November 10th, 2010 under Tara Reid. [ Comments:

3

]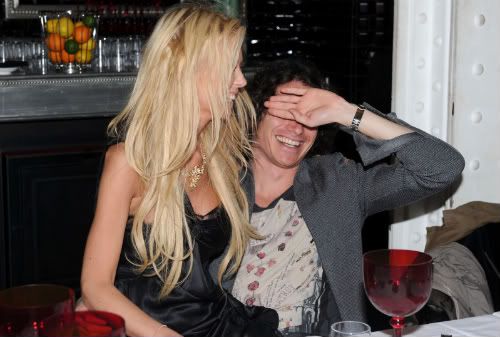 Tara Reid was celebrating the one year anniversary of the VIP Room in St. Barths, France and her nipple came out to party to. Do you really want to see it then click here!
---
BTWF game shows: Breckin Meyer on Child's Play
August 11th, 2010 under Before They Were Famous, Tara Reid. [ Comments:

none

]

Before Breckin Meyer was trying to get a collar on Garfield, he was describing a collar on Child's Play. How awwwdorable was the 8 year old on that 1982 game show. If it wasn't for a few facial movements, I never would have believed that was him.
And there is a bonus celeb on their…Before people wanted Tara Reid's autograph, she was describing wanting one on Child's Play. The 7 year old Tara was so freaking cute with pigtails and without her front teeth during that 1982 game show appearance!
---
Tara Reid looks worse from behind than she does from the front
July 29th, 2010 under Tara Reid. [ Comments:

2

]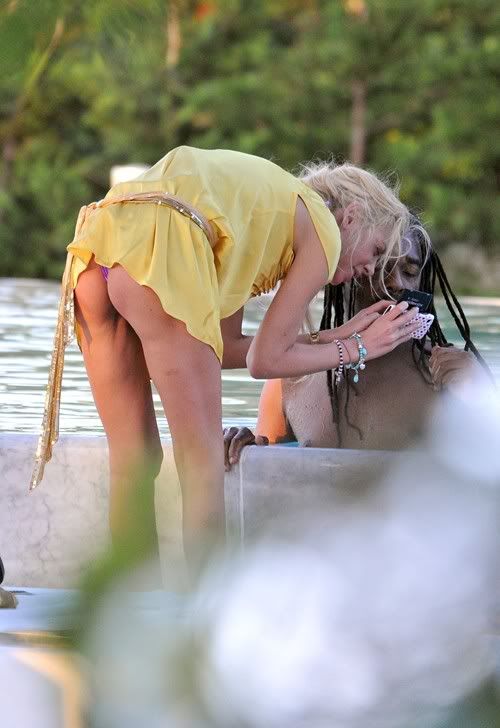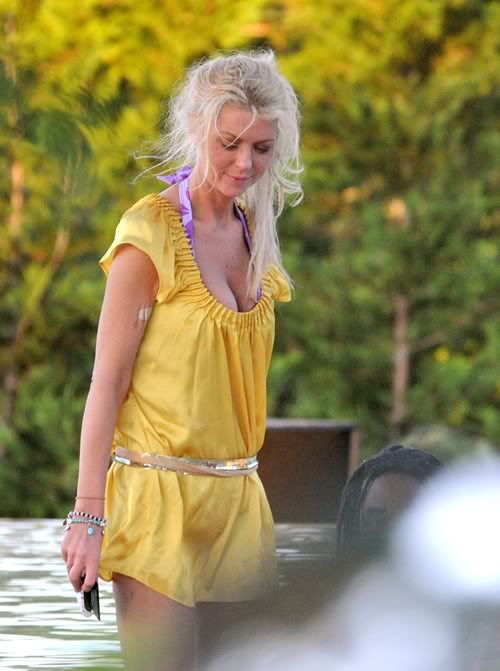 Bauer-Griffin Online
Dear Tara Reid,
My eyes beg you to please never ever bend over in a short dress again.
Thanks,

My Eyes

PS I feel bad for the poor guy(s) that has/had doggy style sex with her.
---
Tara Reid calls off her fairy-tale wedding
April 21st, 2010 under Tara Reid. [ Comments:

1

]

(photo from InTouch)


I guess Tara Reid and Michael Axtmann won't be living happily ever after because they have called off their fairy-tale wedding. Her people gave this statement to People, "Tara Reid has confirmed that she will not be moving forward with her May 22 nuptials." No reason was giving for the split, hopefully she will Playboy the exclusive of what went wrong.
---
Tara Reid is getting married
January 21st, 2010 under Tara Reid. [ Comments:

1

]

(photo from WireImage)


Tara Reid found someone to marry her, scars and all. According to People Michael Axtmann proposed to her Monday night when the two were out having dinner, "Michael surprised Tara with a beautiful round brilliant cut ring. Tara was so happy, and the other patrons clapped and yelled out, 'Congratulations.'"
The two have been dating for a year and plan to marry this summer. She will make a beautiful bride as long as she covers up her stomach.
---
BTWF roles: Tara Reid in A Return to Salem's Lot
November 5th, 2009 under Before They Were Famous, Tara Reid. [ Comments:

none

]

(starts at 2:40 in)


Before Tara Reid went to high school in American Pie and college in Van Wilder, she went to an elementary school in A Return to Salem's Lot. You can't even tell that the 11 year old in that 1987 movie would grow up to be the Tara Reid we would know later on.

Side note: I wonder whatever happened to Ricky Addison Reed who played the lead boy in that movie, I had such a crush on him when I saw the A Return to Salem's Lot?
---
Tara Reid is taking it off for Playboy?
October 10th, 2009 under Tara Reid. [ Comments:

2

]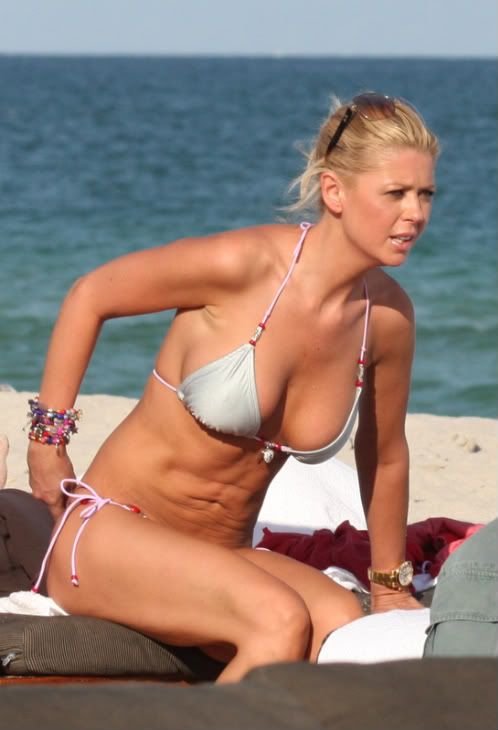 (photo from Splash News Online)


First it was Marge Simpson and now In Touch is reporting that Tara Reid is taking it all off for Playboy. I feel bad for the person that is going to have the airbrush the hell out of her to make her Playboy ready? That is a 10 person job at least.
---