Maybe Jennifer Lopez will realize she's too old to go braless now?
June 19th, 2011 under Celeb Oops, J-Lo. [ Comments:

4

]

Jennifer Lopez was on Wetten dass…? yesterday and while trying to avoid doing a Marilyn Monroe, she wound up doing a Janet Jackson. The possibly former-American Idol judge bent over and revealed she wasn't wearing bra. Maybe now the 41 year old mother of two will realize she is too old to go out without a bra?
If you want to see the nip slip then click here!
---
Shania Twain's fall did Impress Me Much!
June 9th, 2011 under Celeb Oops. [ Comments:

none

]




Shania Twain was walking out to present the CMT Music Award for Male Video of the Year and let's just say she made quite an entrance! The country singer with a Pretty Face had one of the most epic falls and the cameras were there to catch it all. But being the woman that she is, she got right back and presented the award as nothing happened.
Well after she got out of those heels and that dress, she made a short little video and talked about the fall. She said, "I'm just trying to get all this adrenaline out because I just made a complete fool of myself and experienced one of life's most embarrassing moments." She then went on to say that It Only Hurts When she is Breathing. She is also debating whether or not to auction those shoes off or keep them under her own bed. I think it is safe to say From This Moment On, she will be much more selective with her shoe selection before she does any more awards shows.
---
Lady Gaga does have nipples!
June 8th, 2011 under Celeb Oops, Katy Perry / Lady Gaga/ Ke$ha. [ Comments:

1

]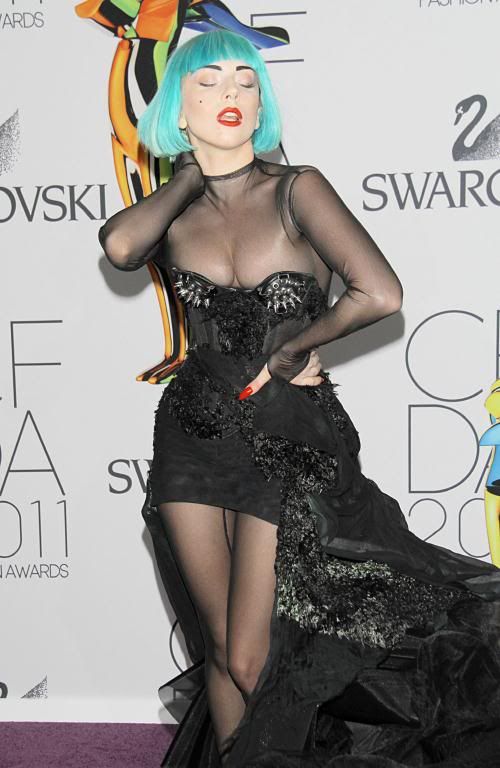 If you want to see what her actual nipples look like then click here!
---
Ashley Judd's makeup malfunction
April 7th, 2011 under Celeb Oops. [ Comments:

none

]

WireImage
Ashley Judd was signing copies of her book All Things Bitter And Sweet: A Memoir and it looks like she is going to be bitter towards her makeup artist after she sees these pictures. Just like Nicole Kidman and Uma Thurman before her, she suffered a major makeup malfunction where her cover up powder didn't hide anything and instead showed she was using it.
Normally I like to see the author of a book, but in case I think she looks better behind her memoir.
---
Kelly Rowland's see-thru shirt
January 3rd, 2011 under Celeb Oops. [ Comments:

none

]

WireImage
Kelly Rowland was performing at the Mirage in Las Vegas and her shirt was like a Mirage for men who have been wondering what was underneath. Thankfully she wore pasties under that studded see-thru shirt because that is a destiny this child didn't want to see.
You know Kelly it a fashion no-no if the Vegas Burlesque dancers wear less revealing clothes than you.
---
Brittany Daniel's sweet valley low dress
June 28th, 2010 under Celeb Oops. [ Comments:

4

]

WireImage
Brittany Daniel walked the red carpet at the BET Awards with her rumored boyfriend Keenen Ivory Wayans in a dress that left everyone going WTF? The Sweet Valley High star's dress left very little to the imagination and I have to say I wish she left more for us to picture. Between her protruding pelvic area and her flat chest, I think the dress was so not right for her. If she was looking for a gown that would make her stand out, mission accomplished. Problem is she is standing out in a way I am sure she did want to because I BET she will be making everyone's worst dressed list this week. While Keeean's Little Man might like it, I think they are the only ones that did.
---
Hoda Kotb shows us where the sun doesn't shine
May 4th, 2010 under Celeb Oops, Kathie Lee and Hoda. [ Comments:

2

]

Hoda Kotb was co-hosting The Today Show with Kathie Lee Gifford last week and she revealed something she didn't want us to see…her underwear. I don't know what is more horrifying the upskirt or that someone actually made a video of it and slow-moed it when it happened twice. I am thinking the latter because you wonder what type of person notices it and then felt the need to make a slow-mo video of it.
---
The Dudesons show a$$ at Kick-A$$
April 14th, 2010 under Celeb Oops. [ Comments:

none

]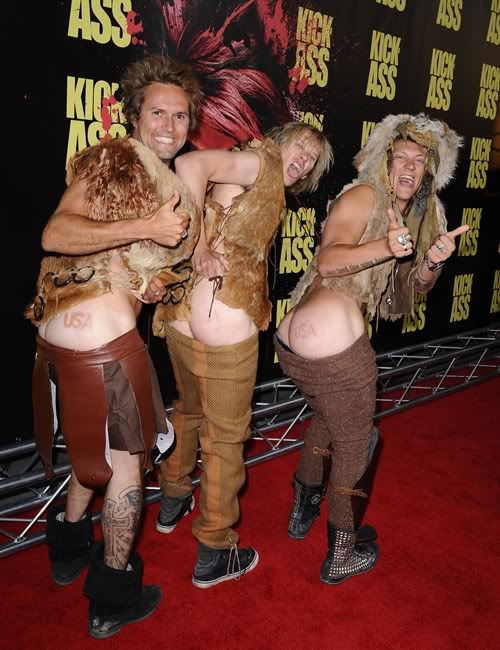 Bauer-Griffin Online
I wonder if Finnish television stars The Dudesons misunderstood the title Kick-A$$ for show a$$ because why else would they be mooning the photographers at the premiere of the movie?
I have never heard of The Dudesons before these pictures, but now I am going to make an a$$ of myself and say I freaking love them! You have to respect anyone that is well to show that much skin on the red carpet and not have either set of cheeks match the color of the carpet!
BTW this is what they look like from the front!
---
Katherine Heigl shows more at ShoWest
March 19th, 2010 under Celeb Oops, Grey's Anatomy. [ Comments:

3

]

WireImage
Katherine Heigl wore a red dress at ShoWest yesterday and after the strap on one side it broke, her face matched the color of her dress. The former-Grey's Anatomy star was accepting the ShoWest award for Female Star of the Year when her dress decided it was ready for its big break and the strap broke. Lucky for her she caught the strap before it revealed too much. Access Hollywood's Billy Bush being the man that he is, came in to hold her dress up while she finished her speech. Also being the man that he is Billy Bush Tweeted about it:
Oh my. Hosting showest awards in LV. Heigl comes up to get award, dress strap breaks…I hold her top on while she accepts!
I fought some adolescent instincts. HahaRT @thebikinichef: @billybush: at least she had you to help her. Can you imagine?!
What a moment. Heigl's dress pops a strap. I end up holding it tight from behind. never held such power.
You know this will be the lead story on Access Hollywood tonight, hopefully they will have video of the wardrobe malfunction. I can't believe no one has posted it yet on YouTube, I am so dying to see it happen and hear her reaction to it.
BTW I actually loved her dress. I can't believe I am actually saying something nice about Katherine Heigl…what's wrong with me?
---
Why the freak is Dax Shepard playing miniature golf naked?
March 9th, 2010 under Celeb Oops. [ Comments:

8

]

Dax Shepard is on the big screen in When In Rome, but it looks like when he is on a miniature golf course he let's all hang out. The Parenthood star was filmed racing through a miniature golf course like his life depended on it or he lost a bet. I am thinking it is the latter because why the freak would be doing all of that in the nude? Good thing he had sneakers on or his a$$ wouldn't have been the only thing that is red.
Even though it was blurred, you can tell that Dax has a 9 iron down there. Kristen Bell is one lucky woman to be engaged to him! Seriously who knew he looked so good in just his birthday suit!!!
---