Mark your calendars, on May 29, 2014 The New York Times made a typo!
May 29th, 2014 under Celeb Oops. [ Comments:

none

]

via NewsBreaker
The New York Times is an elitist newspaper that thinks it is better than all of the others. But today, that is no longer the case because they made a mistake on their precious front page. In the second line under the headline, they typed, "his cautious reponse to world crises". When did the word response, lose that first s? Today! And today, this New York Post and New York Daily News reader is enjoying that perfect paper isn't so perfect any more.
---
James Franco just wants to show his pineapple express
May 1st, 2014 under Celeb Oops, James Franco. [ Comments:

1

]

If you look up Selfie in the dictionary, you are going to see a photo taken by James Franco of himself there. The one-time Oscar host has Tweeted pictures of himself in the bed, just out of the shower, just cause and so on. Well tonight he raised the stakes, by Instagramming a photo of himself in the bathroom mirror with his hand on pen!s and his underwear pulled down below it. Although we don't see that much here, how long til he posts something that Instagram tells him take down? Kind of like where we want his briefs to be and the opposite of where we want his hand.
To see the rest of the photo, then click here!
---
Rihanna's nipple ring is showing
July 22nd, 2013 under Celeb Oops, Rihanna. [ Comments:

none

]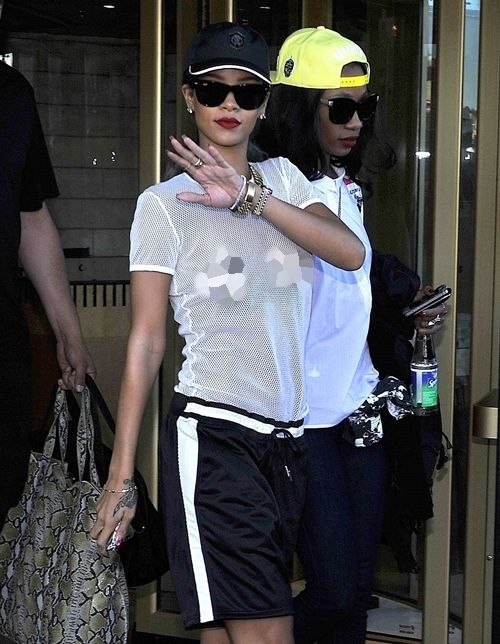 Fame Flynet
Oh Rihanna. The singer went out in a shirt that left nothing, and I do mean nothing, to the imagination in Sweden today. You would think she would've looked in the mirror before she went out and realized that her white shirt was see-thru. But then again maybe she did and she just didn't care. I am thinking the latter.
To see the NSFW picture, then click here!
---
David Alan Grier is literally the butt of all jokes!
May 9th, 2013 under Celeb Oops. [ Comments:

none

]

David Alan Grier was on ESPN's Sportstation and he had a little wardrobe malfunction. After the show he took to Twitter to explain what happened by saying, "It was a setup! @SportsNation stuck like 3 mics on my belt n wires n just dragged a brotha down! Oh the humanity!"
I don't know what he is so upset about, I think that is the funniest thing he has done since In Living Color! I mean I said "Oh the humanity" after I saw Dance Flick, now that was something to really be embarrassed about.
---
What are the Top 10 nudes scenes of 2012?
January 2nd, 2013 under Celeb Oops. [ Comments:

none

]

Now that 2012 has come to a close, what better way to celebrate the year that was then with the Top 10 Nude Scenes. They include actresses of all ages, an Oscar winner and an Oscar nominee, a woman who slept with her director and one who the director forgot he slept with her. So to see who made the list, then go to Mr Skin and see more of some of your favorite actresses than you ever thought you would see of them.
---
Michael Phelphs can swim, but he can't crowd surf!
October 26th, 2012 under Celeb Oops. [ Comments:

none

]

We all know that Michael Phelps can swim like a fish, and now we know he can't crowd surf to save his s$$. On Monday he was at Steve Aoki's show in Vegas when the singer took out an inflatable raft to crowd surf on. The audience encouraged the Olympic Gold winner to join in him the boat, so he took them up on their offer. Only problem is almost as soon as he got in it, he was out of it on the floor. I guess he was just a little to big for them to handle. And the fall was too much for his bum to handle because according to TMZ he broke his a$$. And from now until the end of his life, he will be the butt of all crowd surfing jokes. I know I am already making fun of him and I am sure I am not alone.
Children this is why you need to wear floaties as protection anytime you ride in a boat, whether it is in water or on top of people's hands. Right now Phelps will spend the next few months sitting on a life preserver and had he had one on in the first place, it might not hurt as much every time he sits down.
BTW the best part about these videos is not that they show you both angles of his fall, but that Aoki went on without giving a sh!t that his rafting body went overboard.
---
GMA's Liza Vargas asked Tom Hanks to curse so he said f*cking!
October 19th, 2012 under Celeb Oops. [ Comments:

none

]

Tom Hanks was a guest on Good Morning America this morning talking about his new movie Cloud Atlas. Liz Vargas asked him to do one of the characters from the movie and he said it is hard because he mostly says swear words. She said if he said it in the accent… So he went ahead and did the voice and the word f*cking came out of his mouth on live television. He was extremely apologetic (and freaking awwwwdorable) for letting it slip, but I can't help to think that she asked for it. Tell me I am not alone with that conclusion.
Hanks felts so bad about the slip even after the show that he Tweeted this "For GMA, spesh kowtow for Lizzie V for WHAT DID I JUST SAY??? Oops! In character! Sorry! Hanx" You have nothing to be sorry for, it is just a word that we all say!
---
Allison Pill found a way to get a lot of Twitter followers!
September 12th, 2012 under Celeb Oops. [ Comments:

none

]

via Egotastic
Allison Pill became real popular on Twitter today because the Newsroom star accidentally Tweeted a picture of herself topless. Once she realized her mistake she Tweeted, "Yep. That picture happened. Ugh. My tech issues have now reached new heights, apparently. How a deletion turned into a tweet… Apologies." I bet hackers are bummed she beat them to it.
To see the picture she posted then click here!
---
This is why they are called the 'XXX' Summer Olympics!
August 2nd, 2012 under Celeb Oops. [ Comments:

none

]

(NSFW)


via The Wrap
So yesterday during a Water Polo game one woman accidentally pulled down the bathing suit of another woman and it was all caught on the underwater camera thus airing on NBC. Well two teenage boys (at least I am assuming they are teens) saw the boob action and decided to phonecam the play back video and upload it to YouTube. I think their commentary is better than the nip slip, but I am sure most boys their age will disagree with me.
---
Are you psyched for Kurt Fuller's nip slip?
July 26th, 2012 under Celeb Oops. [ Comments:

none

]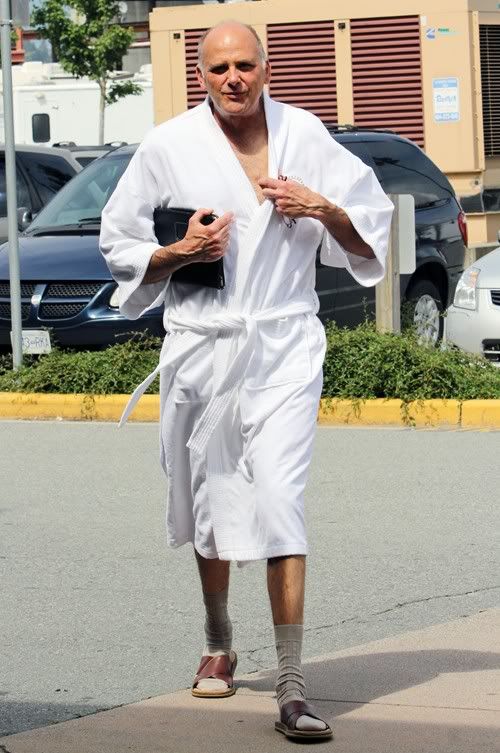 Fame Flynet
Kurt Fuller is filming the Psych wedding episode (I guess that could be a spoiler if we actually knew it was Shawn and Jules' wedding) and while he was walking to the set in a bathrobe he suffered a wardrobe malfunction. Granted the funny man caused his own nip slip, but still it is a nipple! Don't you think he is a little more sexy because of these pictures?
---