Iggy Azalea, I'm so clutzy!
August 23rd, 2014 under Celeb Oops. [ Comments:

none

]

Iggy Azalea was performing at an MTV VMA pre-show concert yesterday and she had a moment that wasn't so fancy. The singer was singing and walking backwards on the stage, then when she turned around she found out there was not enough floor left and down she went. Luckily, she was OK and went on with the show.
---
Gayle King's wardrobe malfunction!
July 29th, 2014 under Celeb Oops, TV News. [ Comments:

none

]

Gayle King put on a hot pink dress early this morning and she didn't realize until much later in the afternoon that it was on backwards. Many of us have done the same thing, but unlike her we weren't doing it on national television. Granted if we woke up as early as she does for work, we'd probably do the exact same thing more often than we already do it now.
BTW I know that the dress wasn't meant to be worn that way, but I like the way it looks in the back. What about you?
---
Lady Gaga accidentally frees the nip on Instagram!
July 18th, 2014 under Celeb Oops, Katy Perry / Lady Gaga/ Ke$ha. [ Comments:

none

]

Lady Gaga Instagrammed a photo of herself to show off her vintage "fashun" and she showed off something else instead, like her nipple. So if you want to see it again, then click here!
---
Selena Gomez accidentally freed the nipple on Instagram
July 10th, 2014 under Celeb Oops, Disney Kids. [ Comments:

none

]

Selena Gomez posted a photo of herself with some friends and she revealed a little more than she wanted. The Disney Darling was wearing a low cut loose lace black top with no bra; and when she slightly bent over, her nipple made an appearance. It was so slight, that she probably didn't realize it when she posted the photo. So slight Instagram left it up on their photo site which is something they don't do.
So I guess you can say that both Selena Gomez and Instagram had a nip slip!
To see the NSFW pic, then click here!
---
Luke Bryan and the stage have a falling out!
May 30th, 2014 under Celeb Oops. [ Comments:

none

]




Luke Bryan has a habit of falling off the stage and yesterday he did it again while playing a show in Charlotte, NC. The country singer went to take a step forward, but misjudged how much of the stage was left in front of him. So down he went. Now he might've been down, but he definitely wasn't out because he got right on up and continued with the show. Even making jokes about his latest tumble.
Even though his fall was scary, he told his fans on Twitter "I'm good. Few stitches." So thankfully, he lives another day to fall again!
---
Mark your calendars, on May 29, 2014 The New York Times made a typo!
May 29th, 2014 under Celeb Oops. [ Comments:

none

]

via NewsBreaker
The New York Times is an elitist newspaper that thinks it is better than all of the others. But today, that is no longer the case because they made a mistake on their precious front page. In the second line under the headline, they typed, "his cautious reponse to world crises". When did the word response, lose that first s? Today! And today, this New York Post and New York Daily News reader is enjoying that perfect paper isn't so perfect any more.
---
James Franco just wants to show his pineapple express
May 1st, 2014 under Celeb Oops, James Franco. [ Comments:

1

]

If you look up Selfie in the dictionary, you are going to see a photo taken by James Franco of himself there. The one-time Oscar host has Tweeted pictures of himself in the bed, just out of the shower, just cause and so on. Well tonight he raised the stakes, by Instagramming a photo of himself in the bathroom mirror with his hand on pen!s and his underwear pulled down below it. Although we don't see that much here, how long til he posts something that Instagram tells him take down? Kind of like where we want his briefs to be and the opposite of where we want his hand.
To see the rest of the photo, then click here!
---
Rihanna's nipple ring is showing
July 22nd, 2013 under Celeb Oops, Rihanna. [ Comments:

none

]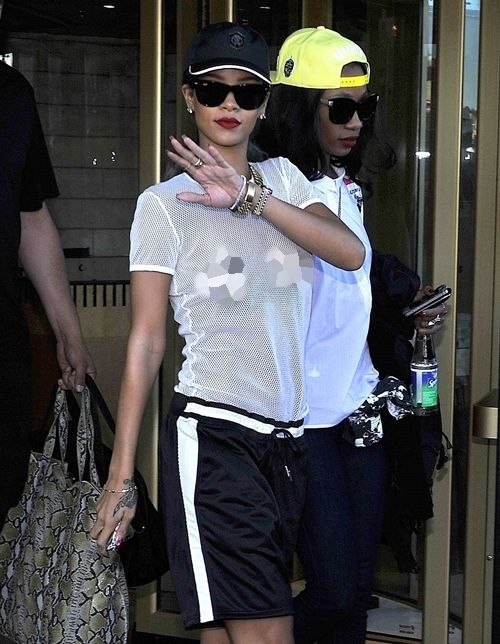 Fame Flynet
Oh Rihanna. The singer went out in a shirt that left nothing, and I do mean nothing, to the imagination in Sweden today. You would think she would've looked in the mirror before she went out and realized that her white shirt was see-thru. But then again maybe she did and she just didn't care. I am thinking the latter.
To see the NSFW picture, then click here!
---
David Alan Grier is literally the butt of all jokes!
May 9th, 2013 under Celeb Oops. [ Comments:

none

]

David Alan Grier was on ESPN's Sportstation and he had a little wardrobe malfunction. After the show he took to Twitter to explain what happened by saying, "It was a setup! @SportsNation stuck like 3 mics on my belt n wires n just dragged a brotha down! Oh the humanity!"
I don't know what he is so upset about, I think that is the funniest thing he has done since In Living Color! I mean I said "Oh the humanity" after I saw Dance Flick, now that was something to really be embarrassed about.
---
Ed Sheeran gets more than a Small Bump when he falls on his face!
March 18th, 2013 under Celeb Oops. [ Comments:

none

]

(starts at 4:05 in)


Ed Sheeran was performing his hit You Need Me, I Don't Need You, but it looks like he needed some medical assistant after he fell face first onto the floor during the opening night of his tour with Taylor Swift in Omaha. Even though some people might think he is making like his song drunk, the night before the show he Tweeted he had the flu and that might've played a role in it.
Instead of running off the stage and asking Swift to kiss his booboo to make it all better, he kept on singing. For that you have to respect him even if the rumors are true he is dating his headliner.
---