Celine Dion really gets into impersonating Rhianna!
July 22nd, 2016 under Celine Dion, Jimmy Fallon, Rihanna. [ Comments:

none

]

Celine Dion was on The Tonight Show yesterday and Jimmy Fallon challenged her to a game of Wheel of Impressions. Basically they each are given an artist and they had to sing a song in that singer's style.
The NBC host got Michael Jackson and Johnny Cash, both of which were impressive. But he could not compete to songstress. She started out with a tame Cher, but then she really let herself go when she got Rihanna. So much so, I never knew that the prim and proper musician can be a lot more than just that. She really embodied the Umbrella singer so much, it was anything but disturbia. Then it was time for one last impression and she got Sia. Sia would take off her wig to Dion because she sounded like the original but better.
Celine should add this schtick to her Vegas residency. Not only would I love to hear her sing her hits, I'd also love to hear her sing other people's as them. I'd pay a lot of money to see that!
---
Hugh Laurie and Celine Dion get crazy with Jimmy Fallon!!!
October 28th, 2013 under Celine Dion, Jimmy Fallon, Lisa Edelstein/Hugh Laurie/House. [ Comments:

none

]




Hugh Laurie and Celine Dion were on Late Night and Jimmy Fallon had them play a game of Password. Since both of them are singers, the one word Password was a song title. So to the two of them had to get their partner to guess the song. The NBC late night was with Vegas Crooner and the Jazz man played with The Roots "Captain" Kirk Douglas.
When I watched the first part of the game, I was going to tell you to watch just for Celine winning dance. Which is quite epic, BTW! But then they got a song title that was so awesome they will have you going crazy with laughter. It is mad good! It is so insane that it will have you go psychotic.
---
Celine Dion had her twin boys!
October 24th, 2010 under Celine Dion. [ Comments:

1

]

(photo from WireImage)


Celine Dion gave birth to twin boys yesterday at 11:11a and 11:12a in West Palm Beach. According to People unlike their father they both were born with a full head of hair.
The two boys whose names have yet to be released join big brother 9 year old René-Charles. Any guesses what French Canadian names she will give them?
---
Celine Dion is pregnant with twins!
May 30th, 2010 under Celine Dion. [ Comments:

none

]

(photo from WireImage)


Celine Dion is 14 weeks pregnant with twins according to People. Her husband told the magazine, "We're ecstatic! Celine is just hoping for a healthy pregnancy. She was hoping for one baby and the news that we are having two is a double blessing." After 5 in-vitro fertilization treatments, the 6th one finally took after the singer tried acupuncture to improve her chances. Looks like it worked because their 9 year old son Rene-Charles is going to be a big brother in about 6 months.
---
Celine Dion pregnant!
August 18th, 2009 under Celine Dion. [ Comments:

1

]
Celine Dion is reportedly pregnant with her second child according to
OK!
. Celine said that after her tour she was going to try via fertility treatments for a baby with her husband René Angélil, and looks like it worked. They already have an 8 year old son, René-Charles. No confirmation from her camp on the news, but I am sure as soon as it is with her voice we will know.
UPDATE: Access Hollywood confirmed the she is indeed breeding again.
---
A Celine Dion upskirt
December 10th, 2008 under Celine Dion. [ Comments:

5

]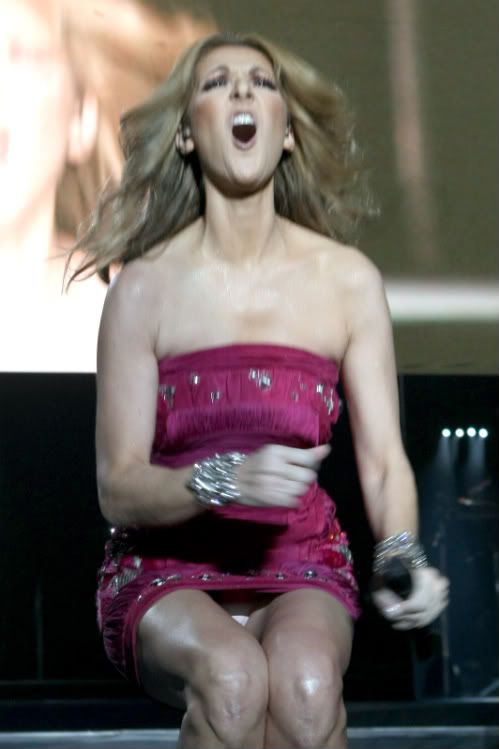 Celine Dion's face matched mine when I saw her upskirt. Something positive, thankfully she wears underwear.
---
Celine Dion is Taking Chances on CBS's Moonlight!
September 24th, 2007 under Celine Dion, Moonlight. [ Comments:

2

]

Celine Dion and CBS have teamed up to promote her upcoming album and CBS's Moonlight. Celine's album Taking Chances is out on November 13th (the same day as Britney Spears and Duran Duran) but before then you can hear her first single of the same name promoting Moonlight. Moonlight premieres on CBS this Friday at 9p after Ghost Whisperer and this show is one of my favorite new shows of the season!!!
---
Is Celine Dion's husband gambling with her money?
February 19th, 2007 under Celine Dion. [ Comments:

none

]
Harrah's executive Jan Jones was on the telephone Tuesday, clarifying what appeared to be a violation of one of Las Vegas' golden rules: Thou shalt not divulge confidential customer information. In an interview with The Observer, one of London's most prestigious daily newspapers, Jones is quoted as saying Celine Dion's husband and manager, Rene Angelil, "probably gambles $1 million a week." Her remark, she said from Washington, D.C., was a misrepresentation. "All I was doing was tying it into what was said by a (pathological gambling) treatment professional," said Jones, senior vice president of communications and government relations for Harrah's Entertainment, Inc. In that role, she oversees government relations, corporate communications and community relations for the company. Jones acknowledges she mentioned Angelil in an interview with a reporter, "But it was not my comment directly. Shame on me. I should have been thinking." The original reference to Angelil, she said, was made by a Canadian scientist at a forum she attended last week. The scientist is involved in treating pathological gamblers. She added, "I would have no idea what he (Angelil) gambles." According to The Observer, the reporter asked Jones, "Aren't these studies funded by the gambling industry?" "Some are and many aren't," she replied. "The problem with problem gambling is not about how much you gamble. It really isn't. It's about gambling what you can afford. That's a very difficult determination. Celine Dion's husband is a big gambler. He probably gambles $1m a week. But he can afford to."
Norm Clarke (story) and Luxe Life (photo)
I wish I could afford to gamble $1 million a week like him. And you know that reporter was asked to say she was not referring to him?
---
Cher and Bette Midler taking over for Celine in Vegas?
November 30th, 2006 under Bette Midler, Celine Dion, Cher, Concerts/Tours. [ Comments:

none

]
All the pieces of the post-Celine Dion era at Caesars Palace are falling into place: Cher's deal is done, and Bette is set. Cher will move into the 4,000-seat Colosseum in the spring of 2008, and Bette Midler will follow in the fall, I hear. Dion ends her 41/2-year run, an unequaled local success, in December 2007. Depending on which reports you believe, she either plans to launch a two-year world tour or will try to have a second child through in vitro fertilization.
How cool would it be if the two of them did it together?
---
Celine Dion's voice won't go on…for the rest of the year
November 29th, 2006 under Celine Dion, Sick Bay. [ Comments:

none

]
Celine Dion has canceled the next five performances of her Las Vegas show, as well as an appearance at the Billboard Music Awards next week, because of a highly contagious respiratory infection, show producers said Wednesday. The 38-year-old Grammy award-winning singer is being treated for Mycoplasma bronchitis, a contagious bacterial infection, and has been ordered to rest during her recovery, producers said. Performances of A New Day at Caesars Palace, a revue created by former Cirque du Soleil artistic director Franco Dragone, were canceled from Wednesday through Sunday, after which Dion was scheduled to take a holiday break from the five-show-a-week regimen. The show will not resume until Dec. 28. Dion also backed out of a scheduled appearance at the Billboard Music Awards on Monday in Las Vegas. Kris Lingle, A New Day spokeswoman, said ticket-holders would receive refunds or could book other show dates. Dion last canceled performances in April, days ahead of her 500th show at the Las Vegas Strip hotel-casino. The singer began a three-year, $100 million contract at Caesars in March 2003, then extended it through next year.
Not judging her, but isn't it ironic she gets sick right before her holiday vacation?
---