Is Pamela Anderson looking for her boobs?
October 24th, 2012 under Pamela Anderson. [ Comments:

none

]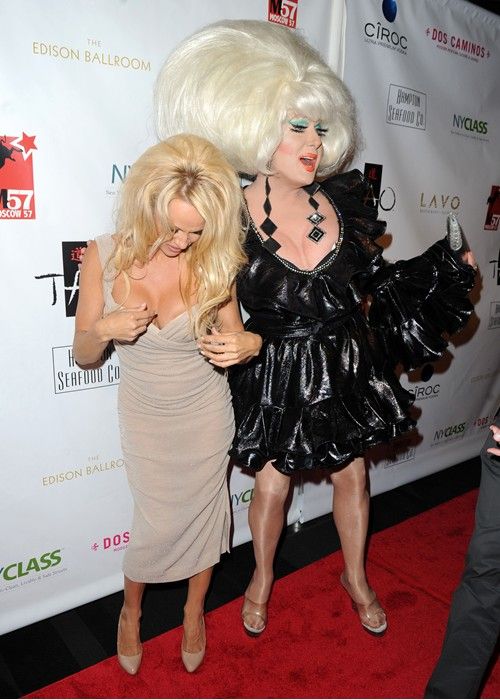 Fame Flynet
Pamela Anderson was out at A Night Of NY CLASS and looks like she thinks might've lost something like her fake boobs. Seriously what is she doing in this picture? Or do we want to even know with her???
---
What is growing out of Pamela Anderson's head?
June 20th, 2010 under Pamela Anderson. [ Comments:

1

]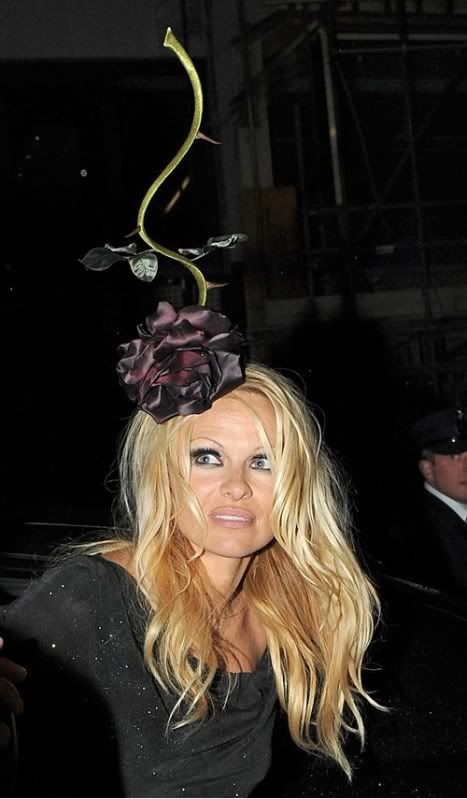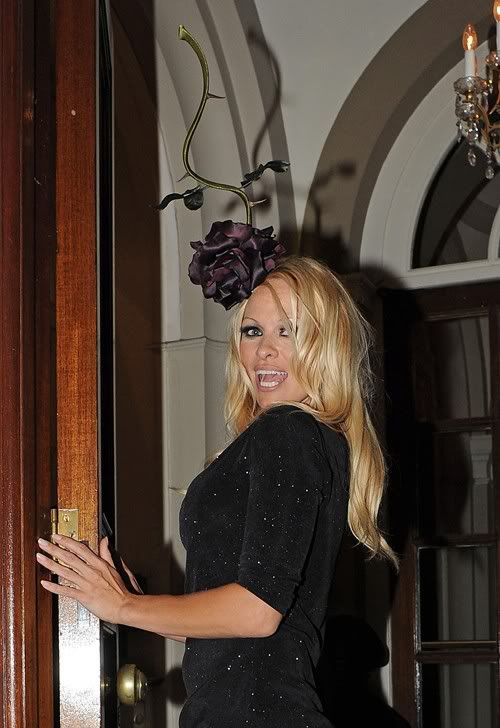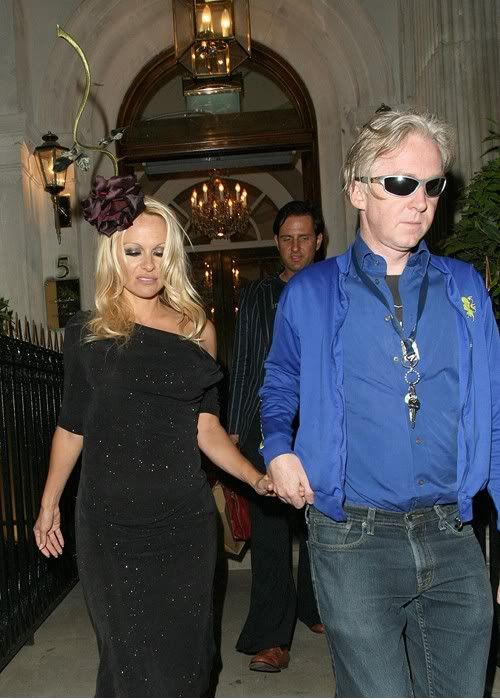 Bauer-Griffin Online
Pamela Anderson went out in a hat, that I can't even begin to explain. It is a reverse fake flower with a stem going several inches up to the sky. If I were her not only would I put the hat in water, I would also put the person who told her to wear in there with it. That hat might work on a Paris runway, but not on the streets of Hollywood.
---
BTWF roles: Pamela Anderson on Charles in Charge
April 27th, 2010 under Before They Were Famous, Pamela Anderson. [ Comments:

none

]

(starst at 4:42 in)




Before Pamela Anderson married 3 different men, she was dating Scott Baio on Charles in Charge. Pamela Anderson was such a natural beautiful (and flat) when she was 23 years old in that 1990 episode, you know before she started wearing all of that makeup and got all of that work done.
---
Pamela Anderson like you have never seen her before
April 27th, 2010 under Dancing with the Stars, Pamela Anderson. [ Comments:

none

]

(photo © ABC)


Yesterday on Dancing with the Stars we saw Pamela Anderson like we have never seen her before. Not just with a slip on, but with a short brown wig. Normally I think some people who are not natural blondes who become bleached blondes look better when they go back to a color that is closer their natural one, but not Pamela. That wig so didn't work for her. It actually aged more than she already ages herself. And for some reason I don't know why, but she reminded me of Lisa Rinna with that fake do.
Positive note: Damian Whitewood has a really nice butt! I didn't say the positive note was going to be about her, did I?
Tune in to DWTS on ABC tonight at 8p to find if we will see the Baywatch star with another new look next week, or if the brown do will do her in. I am really hoping she stays until the end because we have already lost Shannen Doherty and Kate Gosselin and we can't afford to lose her too. Please take my jiggly parts already.
---
Pamela Anderson is a wet mess
April 7th, 2010 under Pamela Anderson. [ Comments:

none

]

Fame Pictures
Pamela Anderson was so happy that she wasn't in the bottom two on Dancing with the Stars for the second week in a row that she went out partying. By the looks of it she partied a little too much because she looks like a wet mess.
She is so going to hate getting up for dance rehearsal today. Hopefully Damian Whitewood and her will have a loud song to practice with today and we will see the rehearsal footage on DWTS on Monday when they do Rumba.
---
The first celeb injured on Dancing with the Stars is…
March 14th, 2010 under Dancing with the Stars, Pamela Anderson. [ Comments:

none

]

Dancing with the Stars has been plagued with injuries and this season's first celebrity injury belongs to Pamela Anderson. The Baywatch star posted this message on her Facebook.
I'm having so much fun- may have dislocated a toe :(-but soaking in ice- It's worth it- a dream come true- Damian is a great teacher– he's starting from -zero–poor guy- I've had no dance training – it's so good to learn something new–I feel like I've gone from Baywatch to this- the last 15 years have just disappeared (in some respects)..-but- I have such beautiful Boys- -it's been the most rewarding job raising great kids- – Thank God for them- and thank God I still get to play- and have fun-at 42!- I'm inspired and energized– excersise works! I'm feeling Fantastic! Dance your heart out!
Hopefully her toe is not dislocated and she will be able to dance next Monday when the ABC show comes back for its 10th cycle because out of all the celebs I am rooting for her to make it to the finals. You know between her outfits and her personality, she will definitely be fun to watch! Let's start a drinking game for every wardrobe malfunction she has on the show! We should all get drunk every time she dances!
---
Caution: Pamela Anderson puts on her Baywatch suit
October 15th, 2009 under Pamela Anderson. [ Comments:

none

]

WireImage
For some reason Pamela Anderson walked the runway in her very old Baywatch bathing suit and let's just say her Baywatch days are far behind her. And what is up with the Ronald McDonald mask, it helps but still it makes the whole thing even more bizarre.
---
Is this child abuse?
October 12th, 2009 under Pamela Anderson. [ Comments:

3

]

WireImage
Pamela Anderson attended Hollywood Life's 6th Annual Hollywood Style Awards with one of the weirdest accessories ever…a young girl to hold the left over fabric of her unfinished dress. Adelaide Gault is a wanna be actress and you would think there would be better ways to make it in Hollywood than to have to hold Pamela Anderson's tail between her legs? I wonder if she had to audition for the role? And if she did how many other girls tried out for the part?
On a positive note, at least Pamela Anderson wore underwear.
---
OMG! They could totally be mother and daughter?
August 17th, 2009 under Pamela Anderson. [ Comments:

1

]

WireImage
I never thought of it before seeing these two women together, but couldn't the '70s sexy siren Suzanne Somers totally be the mom of the '90s sex pot Pamela Anderson? Seriously how much do they look alike. Someone give them a sitcom ASAP, I know I would watch!
BTW I wonder what they were talking about? Maybe Suzanne is going to pass her ThighMaster on to Pamela???
---
Does Pamela Anderson look different?
March 28th, 2009 under Pamela Anderson. [ Comments:

3

]
Is it just me or does Pamela Anderson look different? I can't place it, can you?
---